World Ocean Journal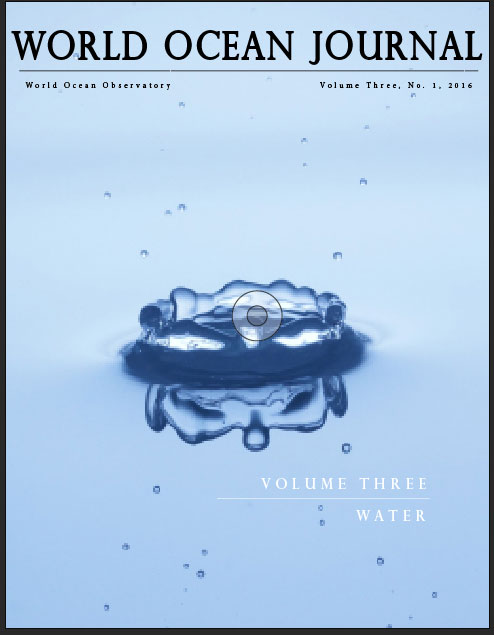 Volume Three on WATER is coming in September 2016
World Ocean Journal is an e-magazine on ocean culture and solutions to today's ocean issues. Each volume includes essays, interviews, art, exhibits, and performances profiling the vital impacts of the ocean on our lives. Volume Two focuses on "islands" and we provide essays which outline solutions, innovations, and inspirations for the ways in which islands impact our lives and whose health and inhabitant's survival is reliant upon the health of the ocean.
Volume Two ISLANDS is now available for view and download.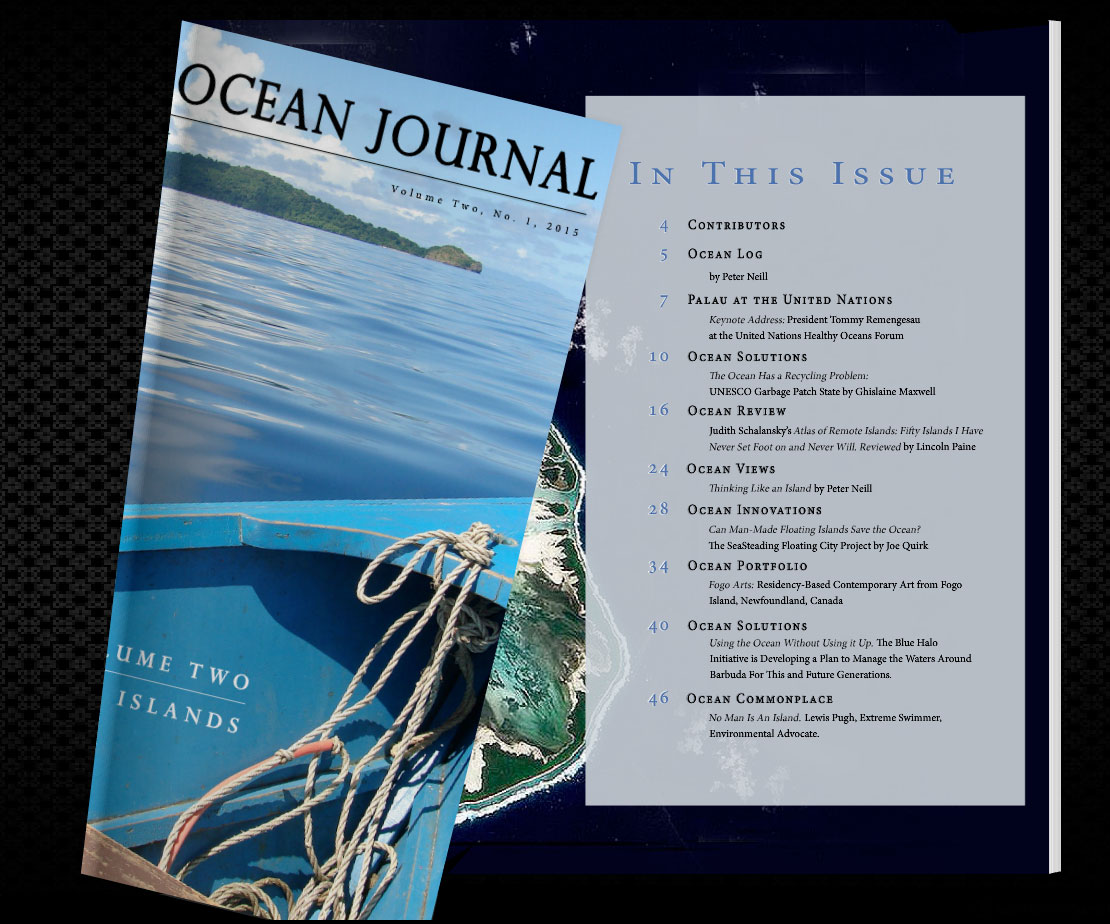 Contributors to Volume Two of the World Ocean Journal:
< Peter Neill: Thinking Like an Island
< Pres. Tommy Remengesau: Keynote at the UN Healthy Oceans Forum
< Ghislaine Maxwell: UNESCO Garbage Patch State
< Lincoln Paine: Review of Atlas of Remote Islands
< Joe Quirk & The SeaSteading Institute: Can Floating Islands Save the Ocean?
< Fogo Arts: Residency-Based Contemporary Art from Newfoundland, CA
< The Blue Halo Initiative: Barbuda--Using the Ocean Without Using it Up
< Lewis Pugh: No Man Is an Island
World Ocean Journal Volume One
(Released January 2014)
Download a PDF here. (file size: 23 mg)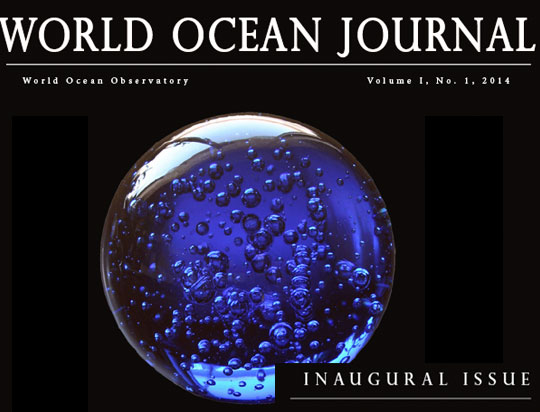 CONTENT FROM VOLUME ONE:
---
An excerpt from the introduction to Lincoln Paine's extraordinary new book, The Sea & Civilization, a one volume maritime history of the world, just released by Knopf and sure to be one of the most important publications of its kind in 2014.

---
A video interview with Dr. Darron Collins, President of the College of the Atlantic in Bar Harbor, Maine. He'll talk about the synergistic relationship between the ocean and human ecology, providing a refreshingly optimistic view of the inter-relationship between social conduct and the sustainability of Nature. He will focus on new interdisciplinary alternatives, economic practices, and individual and collection behaviors.
---
The emphasis on change and revolutionary solutions continues in a conversation with Wendi Goldsmith, founder and CEO of the Bioengineering Group. She and Trisha Badger, Managing Director of the World Ocean Observatory, discuss new engineering practices, ecological design, and innovative restoration projects in coastal wetlands, municipal parks, and inland waterways.

---
Internationally, you will find a survey of artistic representations of Mami Wata, an African goddess of the sea, by Dr. Henry John Drewal, a colorful portfolio of artistic representations of this sea spirit who has found her way into the material and religious culture of Africa and the African diaspora.

---
You will hear a live performance of "Visions at Sea" by The Rubens Quartet, a young Dutch chamber ensemble, composed by Joey Roukens and commissioned for the 2013 re-opening of the National Maritime Museum of The Netherlands in Amsterdam.
---
And you will hear a plea for international consideration of the impacts of climate change and sea level rise on small island nations by Ronnie Jumeau, Seychelles Ambassador to the United Nations and United States, excerpted from a video interview at the Climate Summit in Copenhagen in 2009. Produced by the World Ocean Observatory and Compass Light Productions.

---
Finally you will see World Ocean Observatory Director Peter Neill's own reflections on "reciprocity" as a rationale and framework for exchange of value and engagement between the ocean and us, between civil society and the natural world that sustains it. This essay was first heard on World Ocean Radio on 2013.


Contact us at [email protected] with your reactions, comments, and suggestions. The next issue will come out in mid-2015; we welcome ideas for future content and connections. Thank you for your interest and commitment to the world ocean.