World Ocean Journal
Have time for a quick survey?
If you've read Vol. 1 of World Ocean Journal we'd appreciate your feedback. The survey will take less than five minutes to complete. Your answers will help us to improve upon our new annual e-magazine, and we appreciate your willingness to be a part of the creative process. THANK YOU.
World Ocean Journal is an annual e-magazine on ocean culture, issues and solutions to today's ocean issues. In this inaugural volume we'll include essays, interviews, art, exhibits and performances which profile some of the vital impacts of the ocean on our lives.
Having trouble viewing the Journal online?
Download a PDF here. (file size: 23 mg)
In the FIRST EDITION of World Ocean Journal (released in January, 2014) you will find:
An excerpt from the introduction to Lincoln Paine's extraordinary new book, The Sea & Civilization, a one volume maritime history of the world, just released by Knopf and sure to be one of the most important publications of its kind in 2014.

---
A video interview with Dr. Darron Collins, President of the College of the Atlantic in Bar Harbor, Maine. He'll talk about the synergistic relationship between the ocean and human ecology, providing a refreshingly optimistic view of the inter-relationship between social conduct and the sustainability of Nature. He will focus on new interdisciplinary alternatives, economic practices, and individual and collection behaviors.
---
The emphasis on change and revolutionary solutions continues in a conversation with Wendi Goldsmith, founder and CEO of the Bioengineering Group. She and Trisha Badger, Managing Director of the World Ocean Observatory, discuss new engineering practices, ecological design, and innovative restoration projects in coastal wetlands, municipal parks, and inland waterways.

---
Internationally, you will find a survey of artistic representations of Mami Wata, an African goddess of the sea, by Dr. Henry John Drewal, a colorful portfolio of artistic representations of this sea spirit who has found her way into the material and religious culture of Africa and the African diaspora.

---
You will hear a live performance of "Visions at Sea" by The Rubens Quartet, a young Dutch chamber ensemble, composed by Joey Roukens and commissioned for the 2013 re-opening of the National Maritime Museum of The Netherlands in Amsterdam.
---
And you will hear a plea for international consideration of the impacts of climate change and sea level rise on small island nations by Ronnie Jumeau, Seychelles Ambassador to the United Nations and United States, excerpted from a video interview at the Climate Summit in Copenhagen in 2009. Produced by the World Ocean Observatory and Compass Light Productions.

---
Finally you will see World Ocean Observatory Director Peter Neill's own reflections on "reciprocity" as a rationale and framework for exchange of value and engagement between the ocean and us, between civil society and the natural world that sustains it. This essay was first heard on World Ocean Radio on 2013.


We hope you enjoy this inaugural issue of World Ocean Journal. If you like what you see, please share it with your e-mail contacts, colleagues at work, friends old and new, and other CITIZENS of the OCEAN through your own organizational links and personal connections. Help us by introducing this new tool to everyone you know!
And why not help us evaluate the results? TAKE THIS QUICK SURVEY and/or contact us at [email protected] with your reactions, comments, and suggestions. The next issue will come out in late 2014; we welcome ideas for future content and connections. Thank you for your interest and commitment to the world ocean.
Global Ocean Commission
Global Ocean Commission:
A Rescue Package for the Ocean
CLICK HERE to read more about the GOC and the final ocean report entitled, "From Decline to Recovery: A Rescue Package for the Global Ocean"
Ocean Health Index
A weekly feature to highlight, by country, the goals and components of the Ocean Health Index which measures and scores ocean health from 0-100.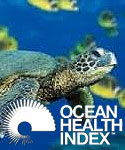 Country of the Week:
Bangladesh
Goal of the Week:
Carbon Storage
Harvesting Non-Food Ocean Resources Sustainably
Global Rank: 1
Score: 100
How Does Your Country's Score Compare?
Did You Know?
This goal measures the carbon stored in natural coastal ecosystem—seagrasses, tidal marshes and mangroves—that sequester and store large amounts of carbon in both the plants and in the sediment below them. When preserved, carbon is stored in these ecosystems. When destroyed, carbon is emitted back into the atmosphere, becoming new sources of greenhouse gas emissions. (source: OHI)
WoRMS! World Register of Marine Species
WoRMS! is a new weekly feature built to showcase some newly discovered species by the World Register of Marine Species.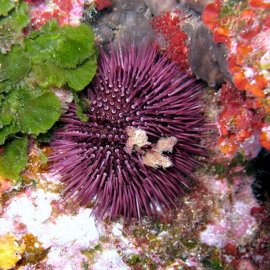 Paracentrotus lividus (sea urchins)
Classification: Echinodermata, Echinozoa, Leske, Euechinoidea, Carinacea, Echinacea, Camarodonta, Ehinidea, Parechinidae, Paracentrotus Geographic Distribution: Coastal...