Naval Museum of Alberta
Publications:
"The Ensign" a quarterly newsletter sne to all members of the Naval Museum Society. It describes the current happening in the museum. , http://www.navalmuseum.ab.ca
School Programs:
We offer guided tour of the museum to any interested parties. These include student groups, members of scouting and military cadets, seniors orgs., http://www.navalmusuem.ab.ca
Curriculum:
The Alberta curriculum for Social Studies emphases the rise of nationalism. Our recent focus on the Battle of Trafalgar was developed to enlarge this, http://www.navalmuseum.ab.ca
Exhibits:
We have three real naval aircraft, many ship models, much naval art and a large display of naval weaponry and artifacts. , http://www.navalmusuem.ab.ca
Study Collections:
A library of 4000 titles, a photo collection approaching 100, 000 images,what is believed to be the only surviving WWII convoy records., http://www.navalmuseum.ab.ca
The purpsoe fo the museum is to promote awareness and unders tandidng of the role played by the Royal Canadian Navy to our country.

DISTANCE LEARNING RESOURCES
To support all educators and parents teaching from home in the weeks ahead, the World Ocean Observatory is pulling together a compendium of home-study tools and resources for teaching and learning about the ocean. These resources can be used by parents, schools, educators and others to address the educational gaps being created by local and national 'shelter in place' initiatives to help flatten the curve on the Covid-19 outbreak. This list of resources is a work in progress: please reach out if you have other key elements that we should be sharing with our global community.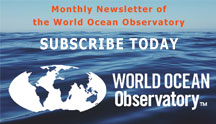 WORLD OCEAN EXPLORER 2020
With a game capable of reaching a global audience, WORLD OCEAN EXPLORER can expand interest in ocean issues and habitats, and excite students about the infinite possibilities associated with ocean exploration. LEARN MORE.