Giant Aplacophoran Mollusc
Recently discovered new species of "giant aplacophoran mollusc" discovered in upper slope waters of the northwestern Gulf of Mexico is twice the size of any previous known relative.
Photo Credit: Darryl Felder, LSU
Ocean Health Index
A weekly feature to highlight, by country, the goals and components of the Ocean Health Index which measures and scores ocean health from 0-100.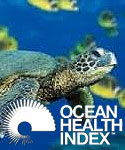 Country of the Week:
Oman
Goal of the Week:
Food Provision
Harvesting Seafood Sustainability
Global Rank: 55
Score: 33
How Does Your Country's Score Compare?
Did You Know?
This goal measures the amount of seafood captured or raised in a sustainable way.
Seafood helps more than half the world's population meet their need for protein. (source: OHI)