Vigtorniella sp. (polychaete worm)
Vigtorniella sp. (polychaete worm) found at a whale fall at Sagami Bay, Japan at a depth of 925 meters. Whale fall is the term used for a whale carcass that has fallen to the ocean floor; they were first observed in the 1980s, with the advent of deep-sea robotic exploration.
Image Credit: Yoshihiro Fujiwara/JAMSTEC
Ocean Health Index
A weekly feature to highlight, by country, the goals and components of the Ocean Health Index which measures and scores ocean health from 0-100.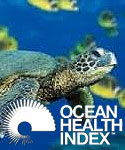 Country of the Week:
Oman
Goal of the Week:
Food Provision
Harvesting Seafood Sustainability
Global Rank: 55
Score: 33
How Does Your Country's Score Compare?
Did You Know?
This goal measures the amount of seafood captured or raised in a sustainable way.
Seafood helps more than half the world's population meet their need for protein. (source: OHI)