Vigtorniella sp. (polychaete worm)
Vigtorniella sp. (polychaete worm) found at a whale fall at Sagami Bay, Japan at a depth of 925 meters. Whale fall is the term used for a whale carcass that has fallen to the ocean floor; they were first observed in the 1980s, with the advent of deep-sea robotic exploration.
Image Credit: Yoshihiro Fujiwara/JAMSTEC
Ocean Health Index
A weekly feature to highlight, by country, the goals and components of the Ocean Health Index which measures and scores ocean health from 0-100.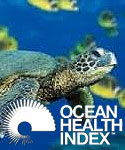 Country of the Week:
Palau
Goal of the Week:
Biodiversity
Supporting Healthy Marine Ecosystems
Global Rank: 41
Score: 91
How Does Your Country's Score Compare?
Did You Know?
People value the existence and intrinsic value of a diverse array of species as well as their contributions to resilient ecosystem structure and function.
This goal estimates how successfully the richness and variety of marine life is being maintained around the world. (source: OHI)