220: Fisheries Crime
| | |
| --- | --- |
| | |
Fisheries crime is on the rise and the consequences are dire. In most instances of illegal, unreported and unregulated fishing (IUU), enforcement is a major issue: lack of personnel, commitment to prosecution, and the capacity to survey and arrest on the vast, open ocean. In this episode of World Ocean Radio, host Peter Neill will discuss efforts being made my Interpol and other organizations to combat unreported fishing loss, the cost to the global economy, and the ever-shrinking core group of owners and corporate structures at the heart of this illegal activity.
Photo courtesty of ISSF. Credit: Andy Maluche
________________________________________________________________________
Peter Neill, host of World Ocean Radio, provides coverage of a broad spectrum of ocean issues from science and education to advocacy and exemplary projects. World Ocean Radio, a project of the World Ocean Observatory, is a weekly series of brief audio essays available for syndicated use at no cost by community radio stations worldwide. Contact us for more information.
Ocean Health Index
A weekly feature to highlight, by country, the goals and components of the Ocean Health Index which measures and scores ocean health from 0-100.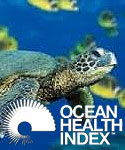 Country of the Week:
Oman
Goal of the Week:
Food Provision
Harvesting Seafood Sustainability
Global Rank: 55
Score: 33
How Does Your Country's Score Compare?
Did You Know?
This goal measures the amount of seafood captured or raised in a sustainable way.
Seafood helps more than half the world's population meet their need for protein. (source: OHI)