Google Ocean

Can't see the content above? Download the Google Earth plugin, and be sure to have the Ocean layer selected in G.O.
Look for this image around our site for stories published to Google Ocean!

November, 2011
The W2O is pleased to announce a new partnership with Google Ocean, the software portal which allows you to visit all corners and depths of the globe. World Ocean Observatory is now providing content from the vast resources available at thew2o.net. The first of our "stories" are now up on the Google Ocean platform.*

* Copy and paste the coordinates into the Google Earth search bar to come within a few value points of the story. Zoom out a bit to locate the story, marked by a small white bullet.
COASTAL BANGLADESH (76° 39' 49.06" S 174° 20' 08.57"W) an Ocean Climate story entitled "The Ocean and Human Health"
ROSS SEA (76° 39' 59.68"S 174° 19' 51.40"W) a World Ocean Radio episode about Sylvia Earle and a special "Hope Spot" in Antarctica
NORTH POLE (89° 58' 47.09" N 8° 18' 26.04" E) an Ocean Climate story about Polar Melt: The Actic Ice Caps
LITTLE CAYMAN ISLAND (19° 40' 48.11"N 80° 05' 20.51" W) for info about biodiversity, coral reefs, and the effects of climate change
GULF OF MEXICO at the mouth of the Mississippi (29° 17' 48.13N 93° 39' 20.62"W) a World Ocean Radio episode about Coastal Dead Zones
GREAT BARRIER REEF (16° 55' 02.74" S 150° 57' 19.64" E) a W2O Event: Sea Turtles: Marine Turtles in Australia
RED SEA (23° 09' 23.24" N 37° 27' 57.59" E) a World Ocean Radio episode about the History and Maritime Traditions of the people of the Mideast
OUTER SEYCHELLES (5° 35' 49.61" S 52° 57' 41.38" E) an Ocean Climate story entitled, "The Effects of Climate Change on Small Island Nations"
As this partnership develops, the W2O will continue to provide content across several categories: interviews on major ocean themes; content sections from OceanClimate; short documentaries and resources from our Events section; World Ocean Radio episodes specific to regions around the globe; links to interviews and presentations from 3rd party organizations such as the TED Conference, YouTube, and partner sites. In the near future we will also begin to upload listings from the World Ocean Directory, a database containing more than 18,000 ocean-related organizations worldwide.

This relationship with Google Ocean with become an extension of our efforts to educate the public, broadening our audience of Citizens of the Ocean and presenting information and educational services to emulate the dynamism of the ocean.
Download Google Earth 5.0
__________________________________________________________________________


"You've done a great job with the dirt. But what about the water?"
Dr. Sylvia Earle to John Hanke Director, Google Earth and Maps, March 2006
Now, they've done a great job with the oceans too!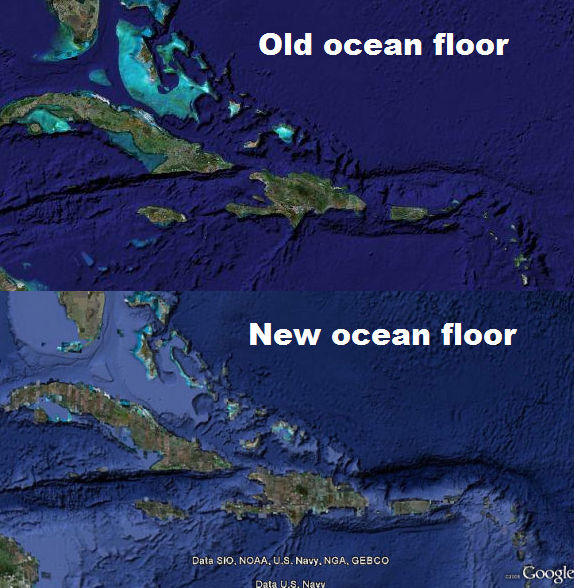 Google Ocean focuses on the 70.8 percent of the world's surface that is the global ocean.
Based on ocean-depth data from UCSD's Scripps Institution of Oceanography in La Jolla, California; the U.S. Navy; the National Oceanic and Atmospheric Administration and other sources, Google has created a program with which users can dive beneath the waves to explore the nooks and crannies of the seafloor - without getting wet.
Explore the Ocean in Google Earth 5.0
Pop-up film clips, commentary and map overlays of everything from local marine life and undersea volcanoes to sunken ships and surf conditions are provided by dozens of Google Ocean collaborators among them numerous universities, the National Geographic Society, the Smithsonian Institution and the Cousteau Society.
Explore specific program aspects such as Sea Level Rise Animations, Reef Monitoring, or Arctic Ice Melt Patterns.
John Hanke, Director, Google Earth and Maps gives Daniel Sieberg of CBS an in-depth look into operating and understanding the new, oceanic feature that Google Earth has added. Watch Now.
AN APP FOR THE OCEAN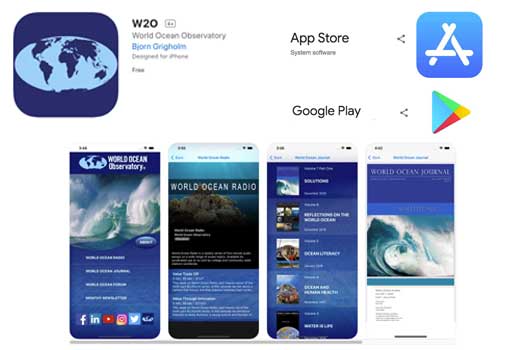 We have a NEW APP to showcase W2O programs and offerings. Download the app for free today on the App Store by searching for "W2O". With the app installed you'll have access to our weekly World Ocean Radio broadcasts, each issue of the World Ocean Journal, updates to the World Ocean Forum blog, access to these monthly newsletters, and more—all in one easy-to-use app! We hope you'll download today, RATE AND REVIEW on the App Store, and let us know how it works!
THE ECONOMIST GROUP'S
WORLD OCEAN SUMMIT ASIA-PACIFIC


Investing in the Blue Economy
December 6-10, 2021
The W2O is pleased to be an Association Partner for the upcoming World Ocean Asia-Pacific. The agenda will provide the platform for nuanced conversation and tailored discussion to catalyze the blue economy in the Asia-Pacific. We will support the December summit throughout this year by sharing event details, research, reports and news as it relates to the World Ocean Summit.

SUPPORT W2O WHEN YOU SHOP ONLINE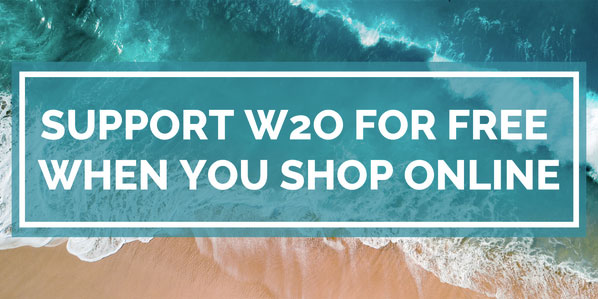 GreenH2O Rewards is a free browser extension that gets 30,000+ stores to contribute part of your purchase price to water-related charities. When you join through our referral link, you'll automatically be supporting W2O, at no extra cost, when you shop online. GreenH2O Rewards extension will also save you money by automatically applying the best discount code for you when you're checking out. What could be better than saving money and helping save the ocean?
* GreenH2O Rewards will never collect your personal information nor sell your data.
OUTLAW OCEAN MUSIC PROJECT:
WHERE MUSIC MEETS JOURNALISM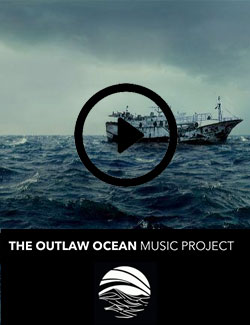 All music in this project is based on THE OUTLAW OCEAN, a New York Times best-selling book by Ian Urbina that chronicles lawlessness at sea around the world. The reporting touches on a diversity of abuses ranging from illegal and overfishing, arms trafficking at sea, human slavery, gun-running, intentional dumping, murder of stowaways, thievery of ships, and other topics. The music is an act of solidarity across geography and language, and an attempt at storytelling from written word to music. It is a captivating collection of inspired songs. Take your pick: listen to ambient tracks, classical, electronic or hiphop.