National Oceanography Centre Southampton
Publications:
NOCS produces a range of publications including the Annual report and the regular newsletter Ocean Zone. These are aimed at a wide audience and report the latest exciting developments in ocean and earth sciences. Our prospectuses provide information on the undergraduate and postgraduate sources and opportunities on offer at the Centre. The Centre produces over 600 scientific publications per year , http://eprints.soton.ac.uk/
School Programs:
The School of Ocean and Earth Science of the University of Southampton offers research-led undergraduate and postgraduate training across the full range of Ocean and Earth Sciences. The School of Ocean & Earth Science is housed in the most prestigious centre of its kind in Europe, the National Oceanography Centre, Southampton. We offer degrees incorporating the following subject areas: ??? Geology, Geophysics (all accredited by ) ??? Oceanography, Marine Biology ??? Ocean & Earth Science We're recognised nationally and internationally for: ??? Our excellence in teaching ??? A relaxed and informal learning environment ??? Providing challenging degrees for professional careers ??? Our cutting-edge research environment The Graduate School of the National Oceanography Centre, Southampton is administratively part of the School of Ocean and Earth Science of the University of Southampton. There are currently around 120 full- and part-time research (MPhil/PhD) students within the Graduate School, with an annual intake of about 30, and approximately 50 Masters and (MSc and MRes) students. The school attracts students from all over the world and from all science disciplines. , http://www.noc.soton.ac.uk/soes/
Exhibits:
The National Oceanography Centre Southampton houses a number of exhibits, of interest to the science community as well as to the general public.
The National Oceanography Centre Southampton is the national focus for oceanography in the UK with a remit to achieve scientific excellence in its own right as one of the world's top five oceanographic research institutions. Its diverse mission ranges from managing the national research vessel fleet and other major facilities, to a programme of strategic research for NERC as well as academic research and education in ocean and earth sciences. Its mission also encompasses major ocean technology development; sustaining long-term observations; managing international science programmes; promoting enterprise, knowledge transfer; providing advice to Government, business and charities, and the engagement between science and society. Moreover, the Centre is also specifically charged with working with the wider science community, in an inclusive way, to provide strategic leadership, coordination and facilitation for the whole of the UK marine and related earth sciences. The Centre undertakes: Basic, strategic and applied research Education Enterprise activities Technology Development Outreach Provision of Advice to Governments Provision of National Marine Science facilities (including ships)
AN APP FOR THE OCEAN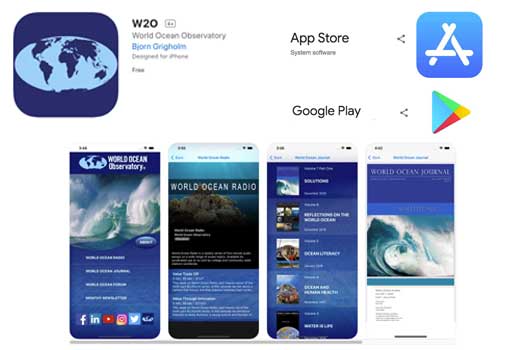 We have a NEW APP to showcase W2O programs and offerings. Download the app for free today on the App Store by searching for "W2O". With the app installed you'll have access to our weekly World Ocean Radio broadcasts, each issue of the World Ocean Journal, updates to the World Ocean Forum blog, access to these monthly newsletters, and more—all in one easy-to-use app! We hope you'll download today, RATE AND REVIEW on the App Store, and let us know how it works!
THE ECONOMIST GROUP'S
WORLD OCEAN SUMMIT ASIA-PACIFIC


Investing in the Blue Economy
December 6-10, 2021
The W2O is pleased to be an Association Partner for the upcoming World Ocean Asia-Pacific. The agenda will provide the platform for nuanced conversation and tailored discussion to catalyze the blue economy in the Asia-Pacific. We will support the December summit throughout this year by sharing event details, research, reports and news as it relates to the World Ocean Summit.

SUPPORT W2O WHEN YOU SHOP ONLINE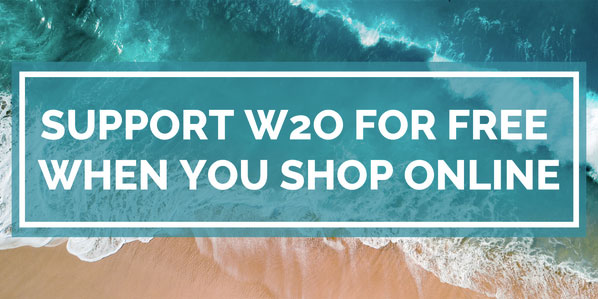 GreenH2O Rewards is a free browser extension that gets 30,000+ stores to contribute part of your purchase price to water-related charities. When you join through our referral link, you'll automatically be supporting W2O, at no extra cost, when you shop online. GreenH2O Rewards extension will also save you money by automatically applying the best discount code for you when you're checking out. What could be better than saving money and helping save the ocean?
* GreenH2O Rewards will never collect your personal information nor sell your data.
OUTLAW OCEAN MUSIC PROJECT:
WHERE MUSIC MEETS JOURNALISM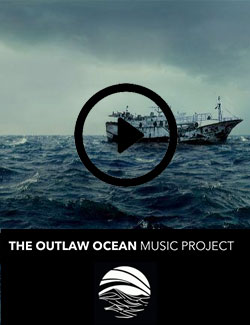 All music in this project is based on THE OUTLAW OCEAN, a New York Times best-selling book by Ian Urbina that chronicles lawlessness at sea around the world. The reporting touches on a diversity of abuses ranging from illegal and overfishing, arms trafficking at sea, human slavery, gun-running, intentional dumping, murder of stowaways, thievery of ships, and other topics. The music is an act of solidarity across geography and language, and an attempt at storytelling from written word to music. It is a captivating collection of inspired songs. Take your pick: listen to ambient tracks, classical, electronic or hiphop.