Ocean Frontier Institute
Street Address:
1355 Oxford Street | PO Box 15000
School Programs:
International Postdoctoral Program: Postdoctoral fellows at Dalhousie University will spend up to 50% of the award period at one of the OFI partner international institutions. Bilateral Doctoral Program: Graduate students will receive degrees from their respective institutions, but will be co-supervised and have research stays in partner institutions, providing them with the opportunity to graduate with international experience. Visiting Fellows Program: Researchers from partner institutions will be eligible to apply for short or long-term stays at Dalhousie University, undertaking research projects and co-supervising students. Ocean School: OFI plays a key role in Ocean School, a Dalhousie and National Film Board of Canada educational initiative for youth aged 11-15 aimed at improving ocean literacy and engagement in science.
Ocean Frontier Institute
Dalhousie University
Safe and sustainable development of the ocean frontier.
The Ocean Frontier Institute (OFI) is a collaborative research initiative to harness the vast potential of the world's ocean. An international hub for ocean science, OFI brings together researchers and institutes from both sides of the North Atlantic to understand our changing ocean and create safe, sustainable solutions for development.
OFI represents a historic partnership between Dalhousie University, Memorial University of Newfoundland and the University of Prince Edward Island. The support of partners in the Government of Canada's federal laboratories, the Royal Canadian Navy, National Film Board of Canada and national and international industry, as well as knowledge shared by eight international scientific organizations will establish Canada as a global leader in transformative ocean research.
Research Vision
OFI research improves prediction and mitigation of major storms, helps better manage the ocean's living resources, improves aquaculture's potential to meet global seafood demand, strengthens marine transportation policy and risk reduction, and transforms how we monitor the ocean with new data capture and IT tools. Learn more.
Geographic Focus
Research focus is the Northwest Atlantic and the Canadian Arctic Gateway, one of the few places on earth where ocean changes are happening first and fastest, making it an epicentre of international scientific interest and a predictor for the global ocean.
WORLD OCEAN EXPLORER 2021
With a game capable of reaching a global audience, WORLD OCEAN EXPLORER can expand interest in ocean issues and habitats, and excite students about the infinite possibilities associated with ocean exploration. LEARN MORE.
OUTLAW OCEAN MUSIC PROJECT:
A CROSSOVER BETWEEN MUSIC & JOURNALISM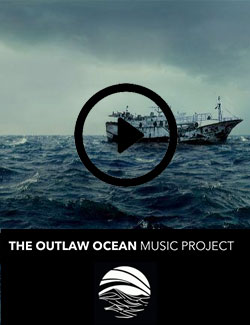 All music in this project is based on THE OUTLAW OCEAN, a New York Times best-selling book by Ian Urbina that chronicles lawlessness at sea around the world. The reporting touches on a diversity of abuses ranging from illegal and overfishing, arms trafficking at sea, human slavery, gun-running, intentional dumping, murder of stowaways, thievery of ships, and other topics. The music is an act of solidarity across geography and language, and an attempt at storytelling from written word to music. It is a captivating collection of inspired songs. Take your pick: listen to ambient tracks, classical, electronic or hiphop.