Maritime History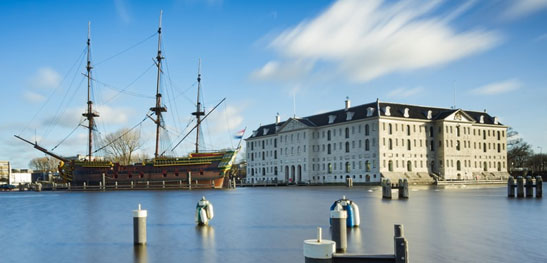 National Maritime Museum, Amsterdam, Netherlands
The history of maritime endeavor is contained primarily in museums, libraries and archives around the world, many searchable on-line. In addition, there are many Internet discussion groups and list-serves, bibliographies, magazines and journals, and other collections of material culture that evoke the wide spectrum of life by and on the sea.
---
Maritime Museums
A majority of the major maritime museums or institutions with maritime collections are members of the associations below. Additional organizations can be found in the World Ocean Directory.
International Congress of Maritime Museums
Council of American Maritime Museums
The Navigation of Knowledge - Network of Historical Naval Dockyards
From Brunei to New Zealand - A selected listing of exhibits around the world
---
Libraries, Archives and Specialty Collections
Libraries and archives frequently contain maritime-related collections of rare books and manuscripts, maps and charts, portraits, letters, photographs, objects and ephemera. Additional material can also be found in local historical and genealogical societies, natural history museums, folk arts and craft collections, and science and environmental centers in coastal settings.
Mystic Seaport, G.W. Blunt White Library Mystic Seaport Collections and Research Department - Online Resources
The Mariners' Museum Research Library
The Smithsonian Institution Libraries
Maritime History Archive, Memorial University, Newfoundland
---
Ships and Boats
Maritime history is well told through the voyages of innumerable ships plying the high seas, transporting goods, people and ideas worldwide in a complex weave of successful passages through time. These ships are evident throughout the history of civilization. They evoke the triumphs and tragedies of human endeavor, the myriad individual stories that collectively proclaim human achievement.
ShipHistory.org: STEAMing into the Future (Interactive Site)
All Things Boat | Famous Ships & Famous Ship Names
Indigenous Boats | Small Craft Outside the Western Tradition
Traditional Small Craft Association
History of the Submarine (1580-1869)
Museum Fleets:
The German Maritime Museum, Bremerhaven
San Francisco Maritime National Historic Park
South Street Seaport Museum, New York
Australian National Maritime Museum
Watercraft Collections, Registers and Inventories:
Museum Small Craft Union List, United States
National Maritime Museum, Cornwall, United Kingdom
New Zealand Maritime Indexhttp://thew2o.net/node/7/edit
Historic Light Stations, United States
Australian Registhttp://thew2o.net/node/7/editer of Historic Vessels
---
Online Collections and Resources
Maritime patrimony is also interpreted through collections of artifacts, models, paintings, archival materials, and ephemera, much of which is found in institutional settings. Several museums and other organizations with large, encyclopedic collections have made these resources publicly accessible through on-line search facility and thematic bibliographies.
Fyddeye (fid-i) A place to discover and share your maritime history
A New Way to Research Vessels: ShipIndex.org
The National Maritime Museum of Greenwich, United Kingdom
Collections Search System for Maritime Museums in the Netherlands
The Mariners Museum, United States
The New Bedford Whaling Museum, United States
---
Selected Internet Bibliographies

Exploration, The Hakluyt Society
Maritime Folklife, The American Folklife Center
Maritime Dictionaries, Termisti
Genealogy, Ship Passenger and Crew Lists
Nautical Archaeology:
Western Australia Maritime Museum, Australia
Nautical Archaeology on the Web
Shipping/World Trade
UN International Maritime Organization
Maritime Transportation - Bureau of Transportation Statistics
Modern Shipping
Lloyd's Register of Modern Shipping
Atlantic World: A specialized history bibliography from Carnegie Mellon University Libraries
Includes: African diaspora, Latin America, slave trade, and many related topics