Global Ocean Commission
Global Ocean Commission:
A Rescue Package for the Ocean
CLICK HERE to read more about the GOC and the final ocean report entitled, "From Decline to Recovery: A Rescue Package for the Global Ocean"
Ocean Health Index
A weekly feature to highlight, by country, the goals and components of the Ocean Health Index which measures and scores ocean health from 0-100.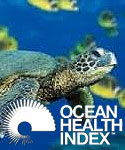 Country of the Week:
Bangladesh
Goal of the Week:
Carbon Storage
Harvesting Non-Food Ocean Resources Sustainably
Global Rank: 1
Score: 100
How Does Your Country's Score Compare?
Did You Know?
This goal measures the carbon stored in natural coastal ecosystem—seagrasses, tidal marshes and mangroves—that sequester and store large amounts of carbon in both the plants and in the sediment below them. When preserved, carbon is stored in these ecosystems. When destroyed, carbon is emitted back into the atmosphere, becoming new sources of greenhouse gas emissions. (source: OHI)
WoRMS! World Register of Marine Species
WORK IN PROGRESS: Stay tuned for a new weekly feature to showcase newly discovered species by the World Register of Marine Species (WoRMS.)
Gastropod Mollusc Crysomallon Squamiferum
Multilayered structure of the shell of Crysomallon squamiferum, a recently discovered gastropod mollusc from the Kairei Indian hydrothermal vent field. It is unlike any...