The UN Atlas of the Oceans
Traditionally, an atlas was a bound collection of maps, charts, plates and tables illustrating a subject. The UN Atlas of the Oceans is an on-line version, an encyclopedic survey of the best ocean information. The project is a partnership of six UN Agencies and other public and private partners, including the World Ocean Observatory.
To access information, the Atlas offers four main points of entry:
The Atlas is the most comprehensive on-line resource for inquiry about the full spectrum of ocean issues. It is an essential tool for students, teachers, and others interested in detailed information about ocean systems and services.

DISTANCE LEARNING RESOURCES
To support all educators and parents teaching from home in the weeks ahead, the World Ocean Observatory is pulling together a compendium of home-study tools and resources for teaching and learning about the ocean. These resources can be used by parents, schools, educators and others to address the educational gaps being created by local and national 'shelter in place' initiatives to help flatten the curve on the Covid-19 outbreak. This list of resources is a work in progress: please reach out if you have other key elements that we should be sharing with our global community.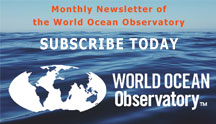 WORLD OCEAN EXPLORER 2020
With a game capable of reaching a global audience, WORLD OCEAN EXPLORER can expand interest in ocean issues and habitats, and excite students about the infinite possibilities associated with ocean exploration. LEARN MORE.