Europe is surrounded by seas and oceans; they are its past, present and future. Visit this site for updates, news and policy changes throughout the European Union.

This "Blue Book" is the result of over a year of consulting with stakeholders, identifying gaps between sea-related sectoral policy areas and attempting to adopt best practice and learn from obstacles and challenges. The mandate has been to examine all economic activities of Europeans which are linked to or impact on the oceans and seas, as well as all the policies dealing with them, with a view to finding the best way to extract more benefit from the oceans in a sustainable manner.

Maritime Policy Actions

The Integrated European Maritime Policy aims to provide a coherent framework, which exploits synergies between different policy areas of the sea and resolves potential conflicts. In its Action Plan, the European Commission enumerates a set of actions to be taken as a first step towards the implementation of the new policy.

A cluster can be broadly defined as a group of firms, related economic actors and institutions that are located near each other and have reached a sufficient scale to develop specialised expertise, services, resources, suppliers and skills.

In a number of countries and regions, maritime clusters, encompassing a wide range of sea-related economic activities have been developed in order to foster synergies between their activities and boost the development of the European maritime economy.

Increased activity on Europe's seas is resulting in heightened competition between different sectoral interests, such as shipping and maritime transport, offshore energy, port development, fisheries and aquaculture, and environmental concerns. This, in turn, is putting mounting pressure on already limited marine space. A more collaborative and integrated approach to decision-making is required to secure the sustainable development of marine areas in a healthy environment.

Maritime spatial planning is designed to promote rational use of the sea and improve decision-making. It seeks to balance sectoral interests and thereby achieve sustainable use of marine resources. In sporting terms, if the competing human activities concerned are the players, maritime spatial planning is the referee in charge of overseeing fair play in a well-managed arena (the marine environment).

EU policies in areas such as environment, climate change, energy, research, transport and fisheries have a direct bearing on the Arctic. It is a fundamental premise of the EU's Integrated Maritime Policy that each sea-region is unique and needs individual attention in balancing its uses in a sustainable manner.  

Environmental changes are altering the geo-strategic dynamics of the Arctic with potential consequences for international stability and European security interests calling for the development of an EU Arctic policy.

 

 

DISTANCE LEARNING RESOURCES
To support all educators and parents teaching from home in the weeks ahead, the World Ocean Observatory is pulling together a compendium of home-study tools and resources for teaching and learning about the ocean. These resources can be used by parents, schools, educators and others to address the educational gaps being created by local and national 'shelter in place' initiatives to help flatten the curve on the Covid-19 outbreak. This list of resources is a work in progress: please reach out if you have other key elements that we should be sharing with our global community.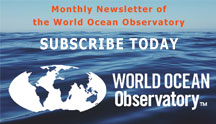 WORLD OCEAN EXPLORER 2020
With a game capable of reaching a global audience, WORLD OCEAN EXPLORER can expand interest in ocean issues and habitats, and excite students about the infinite possibilities associated with ocean exploration. LEARN MORE.