Last updated July 23, 2012
OCEAN CLIMATE offers the opportunity to explore the complexity of the relationship between ocean and climate and the many ways they affect one another. This section offers key issues, possible responses, and excellent resources on the challenging situations examined here.
We also invite you to join an interactive global conversation about ocean and climate, to participate in discussions and express your views about these key ocean issues by visiting the Ocean=Climate Forum.
This section of the w2o.net is a work in progress. Thank you for your patience as we work to make this resource as expansive and useful as possible. Please check back soon for updates.
ISSUES
| | |
| --- | --- |
| | CO2 Emissions |
| | Polar Melt |
| | Extreme Weather |
| | Ocean Currents |
| | Ocean Acidification |
| | Fresh Water |
| | Disease |
| | Biodiversity |
| | Coastal Resources |
| | Economic Effects |
| | Small Island Nations |
RESPONSE
< Mitigation
< Adaptation
< Invention
< Participation
Ocean Health Index
A weekly feature to highlight, by country, the goals and components of the Ocean Health Index which measures and scores ocean health from 0-100.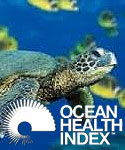 Country of the Week:
Solomon Islands
Goal of the Week:
Food Provision
Harvesting Seafood Sustainably
Global Rank: 1
Score: 93
How Does Your Country's Score Compare?
Did You Know?
Seafood helps more than half the world's population meet their need for protein.

Miles Down!