Russia, the Arctic, and the Consequence of Failure
Submitted by admin on Tue, 07/18/2017 - 15:40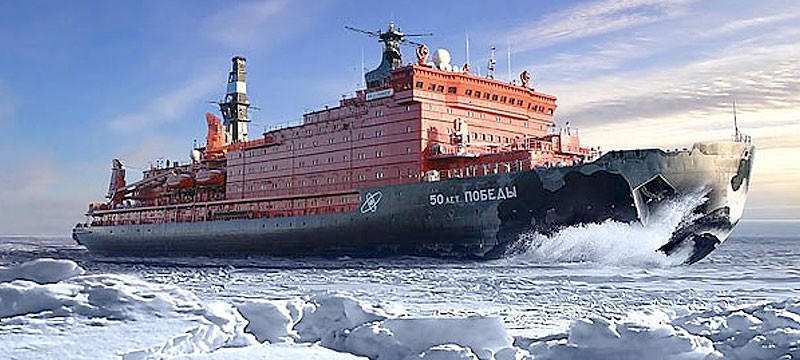 The Russian Arktika class nuclear powered icebreaker "50 Years of Victory."
Credit: russia-direct.org
This year, the United States turned over the two-year chairmanship term of the Arctic Council to Finland. The Council, you might remember, is the representative group of nations with direct connection to the circumpolar Arctic region, augmented by observer nations and organizations with interest but no contiguous geographical connection. The US had proposed a very ambitious agenda, moderate in its focus on balance between economic development and sustainability. Despite such good intentions and the strong support of the Obama administration, the chairmanship achieved only modest progress. Under the Trump administration there has yet been no clarification of the U.S. position.
The Finland Ambassador to the Arctic recently gave a first interview that suggested continuity of concern, restriction and regulation, sustainability, and commitment to the indigenous people of the Arctic as has been the past pattern, however deliberate over time.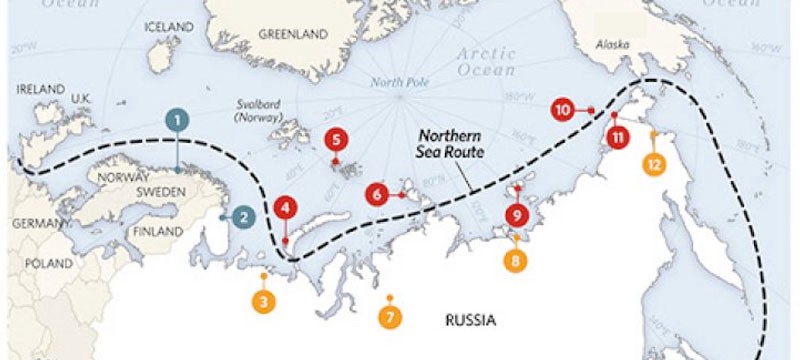 Russian Arctic Bases
Credit: NextBigFuture.com
Russia, of course, has the longest Arctic coastline, from the north Atlantic to the north Pacific, across the top of the European continent. With the impact of temperature rise and ice-melt that lengthy water passage has become of immense interest for east-west transportation and access to resources on land and sea in the high north. The Russians are well aware of this value and have moved with speed to take advantage of the many opportunities now available.
Russia has long been aware of this strategic advantage and has invested presciently in the infrastructure and service elements required. Ports have been expanded and refurbished; most importantly, the Russians have the largest fleet of icebreakers and ice-rated vessels available now at the moment when the rest of the world begins to study or take first steps to ship via the northern sea route, the number of vessels making that passage rising exponentially over the past few years. Quietly, even within the context of Arctic Council policies and determinations, Russia has positioned itself to derive maximum benefit of the changing circumstances resulting from a changing climate.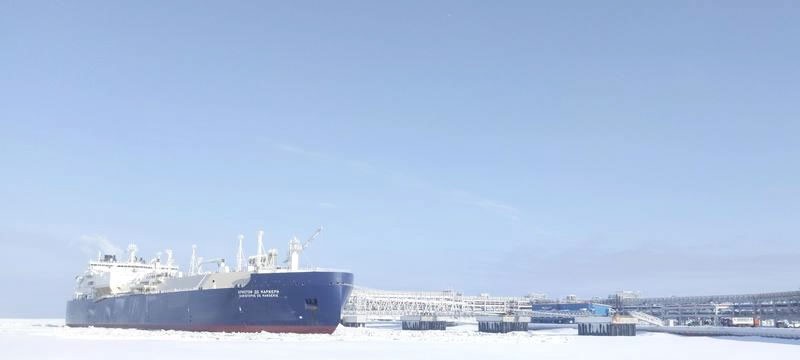 Christophe de Margerie, ice-class tanker fitted out to transport liquefied natural gas docked in the Arctic port of Sabetta, Yamalo-Nenets district, Russia. March 30, 2017.
Credit: Olesya Astakhova | Thompson Reuters ©
Here are some headlines from Russian press reports of Russian activity in the Arctic in the past few weeks:
Russian natural resources ministry expects more big discoveries on Arctic shelf.
Exploration license awarded for Novatek at Gyndansky block.
Construction machinery arrives at Novatek's new plant area in Murmansk
Russia moves to finance Arctic liquid natural gas projects.
Russia's Rosfelt finds first oilfield offshore in eastern Arctic.
Rosfelt's partners to invest over $8 billion in Russia's offshore energy sector.
Nuclear energy may be solution for Arctic, Russian expert says.
Russia unveils plan for new amphibious ship for Arctic service.
Next to Russian Arctic oil field, a wind and solar power station.
Nuclear energy may be solution for the Arctic.
There are many more. If you examine this litany of announcements and investments, you will see a serious intent to develop the Russian Arctic to the maximum, with a traditional emphasis on oil and mineral extraction as an expression of geopolitical and economic power. While these headlines do not mention industrial fishing, we can be assured that such development in that sector is equally advanced. There is national pride evident therein, a determined assertion that such actions are justified by right and law, and no Arctic Council conversation will stand in the way.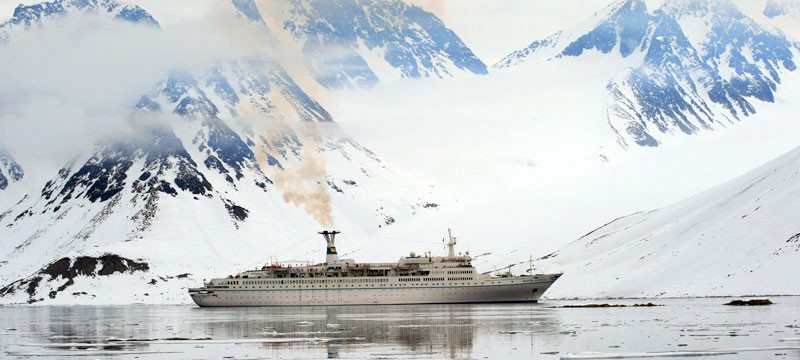 Russian cruise ship, Svalbard, Norway.
Credit: Thomas Hallermann, Marine Photobank
There is no mention of standards for safety, for environmental standards and preservation, for response to any disaster from the inevitable stress on systems, machines, and employees working in these harsh and unforgiving conditions. Russia's lack of interest in such protections has been evident since the catastrophic nuclear incident in Chernobyl.
There is also little or no mention of the people who live in these remote outposts — historically forgotten for the most part — who have neither the skills nor the desire for this potential invasion of their world and stand not to benefit from the positive outcomes, while certainly affected by the negative outcomes that will surely come.
What is at work here is business as usual, defined by extractive industry and manufacturing. As those who advocate from this same perspective in the United States and elsewhere are finding, the 21st century paradigm, new technologies, new financial structures, and new social values may not support this world view, thus not support return on this outmoded investment. The times that passed Russia by in the last decades since the collapse of the Soviet Union may pass by Russia faster and farther again as they double-down on regressive actions and politics. But we should be aware, and alert, that this mentality is in very much in play, presently, seriously, and invisibly, with autocratic determination and little concern for the consequence of failure.
---
Russia and the Arctic first appeared as a 5-minute audio episode on World Ocean Radio.