World Ocean Explorer
JULY 2021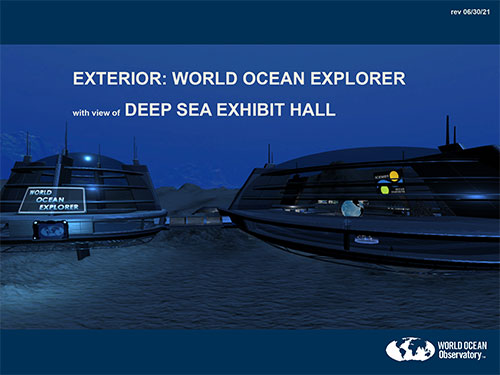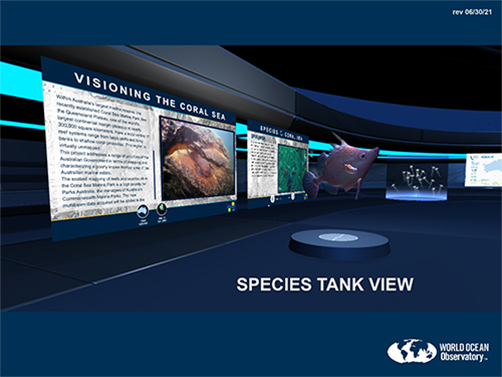 The W2O is working on a first wing of the WORLD OCEAN EXPLORER virtual aquarium this year. Funded by the Schmidt Ocean Institute, we are building a virtual Deep Sea Exhibit to showcase encounters and discoveries during Schmidt's many deep sea expeditions, most specifically their Australia Campaign in 2020. These expeditions of deep sea environments, seamounts, sub-marine canyons and coral ecosystems brought to light a cache of new species and information that will be made available in EXPLORER's Deep Sea Portal.
The EXPLORER Deep Sea exhibit will be an online interactive platform highlighting the biological and geological finds of the cruises by the Schmidt Ocean Institute RV Falkor and their ROV SuBastian. The online exhibit will allow users to learn about and interact with deep sea organisms not otherwise available in a traditional aquarium setting. Features will include interactive displays, searchable species tanks, maps, videos, images, audio files, 3d models, and details related to anatomy, habitat, range, threats, ecosystem details, and more educational information as its available.
Our vision for this and future virtual portals is to include links to resources, the full Ocean Literacy curriculum, teaching modules and lesson plans. WORLD OCEAN EXPLORER has the capacity to increase ocean literacy worldwide, and we believe that educated and informed citizens can change human behavior on land and sea. Our strategy is simple: consolidate and expand existing innovations to reach a broader global audience. EXPLORER will help us to do just that, and the Schmidt Ocean Institute Deep Sea Portal and vast media catalog will excite visitors with the infinite possibilities associated with ocean exploration. We are thrilled to partner with the Schmidt Ocean Institute to bring this deep sea exhibit at no cost to users everywhere by year-end 2021.
At this time we are also pleased to announce that we have received funding to build out the lobby of the virtual aquarium. Thanks to the Seth Sprague Educational and Charitable Foundation, we have resources in hand to construct the entrance hall—one of the aquarium's key features that will welcome visitors to the upcoming Deep Sea exhibit and future portals. The lobby will have its own displays to introduce users to the full catalogue of resource modules contained within—in effect to build the place where we welcome and introduce our educational concepts and organizational themes to what we expect to be an audience of millions globally. Our ambition is to make the ocean accessible through inclusive interaction as wide, deep, and dynamic as the ocean itself.
AUGUST 2020
WORLD OCEAN EXPLORER
A game of ocean exploration and discovery
designed for students ages 10 and up.
Support Materials:
- WOE Narrative (pdf)
- 2020 Budget (pdf)
- Fly-thru (5 min video)
- About the W2O (case statement) (pdf 9 mg)
WORLD OCEAN EXPLORER is an educational gaming experience, free for use in the classroom and at home by ocean enthusiasts ages 10 and up. Simulate a walk through a deep ocean aquarium, find marine species rarely seen; engage with ocean systems; click through to educational content and curriculum; and board a manned submersible for exploration of a variety of ocean environments. Aboard the submersible, complete goal-driven mission scenarios or conduct free-play explorations. Choose a locale: a polar sea, a tropical coral reef, a hydrothermal vent at the deepest depths of the ocean, a shipwreck on the seafloor, an oil spill at an offshore rig...all the while gathering samples and data for use in the classroom!
Inspired by the Next Gen Science Standards and the Ocean Literacy Curriculum, WORLD OCEAN EXPLORER is an immersive gaming experience designed to excite students about scientific ocean exploration and to promote ocean literacy worldwide.
WORLD OCEAN EXPLORER is designed to increase ocean literacy and interest in ocean fields of study. Visitors will be able to engage with the marine environment through interactive displays, learning about species and habitat not otherwise available for display in an aquarium setting.
Take a dive in a polar sea...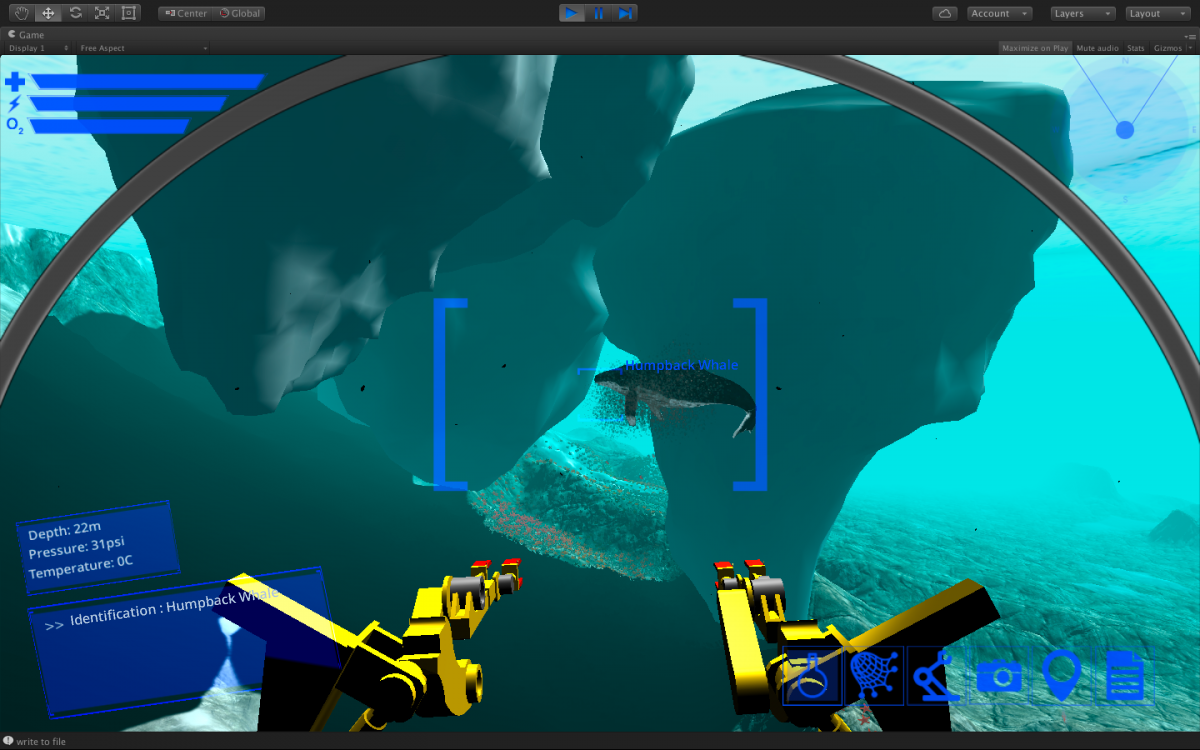 Explore a tropical coral reef...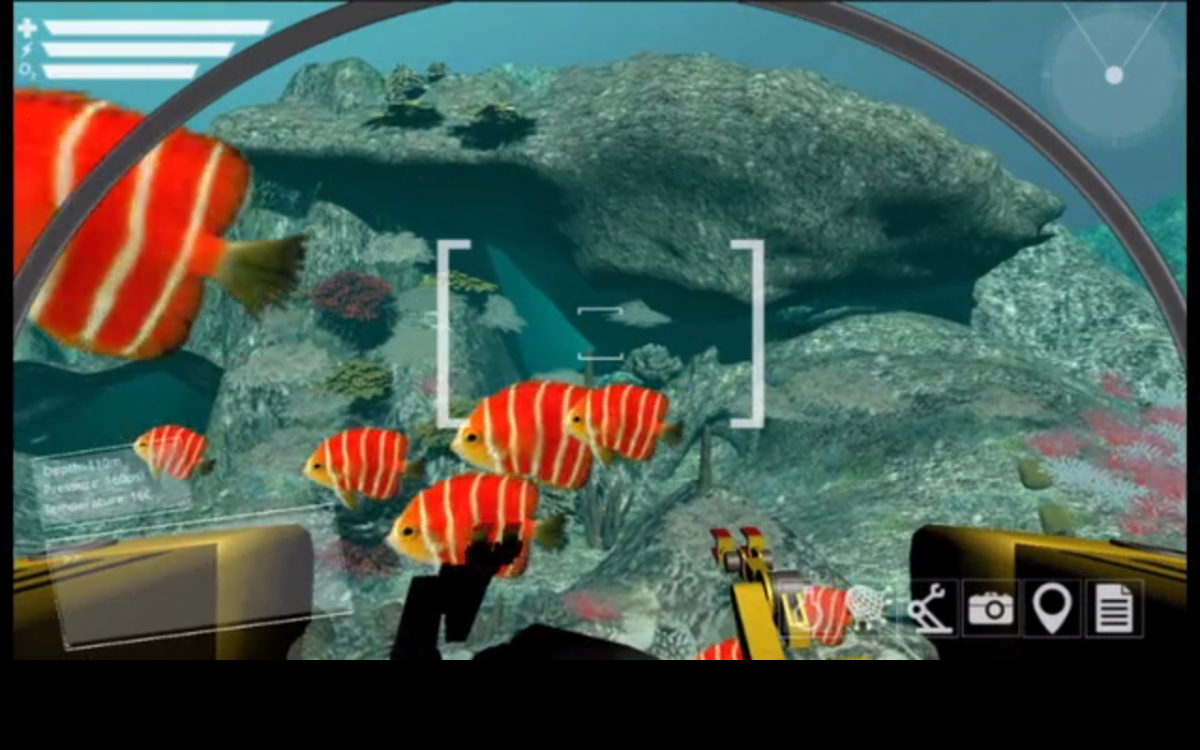 Visit a hydrothermal vent...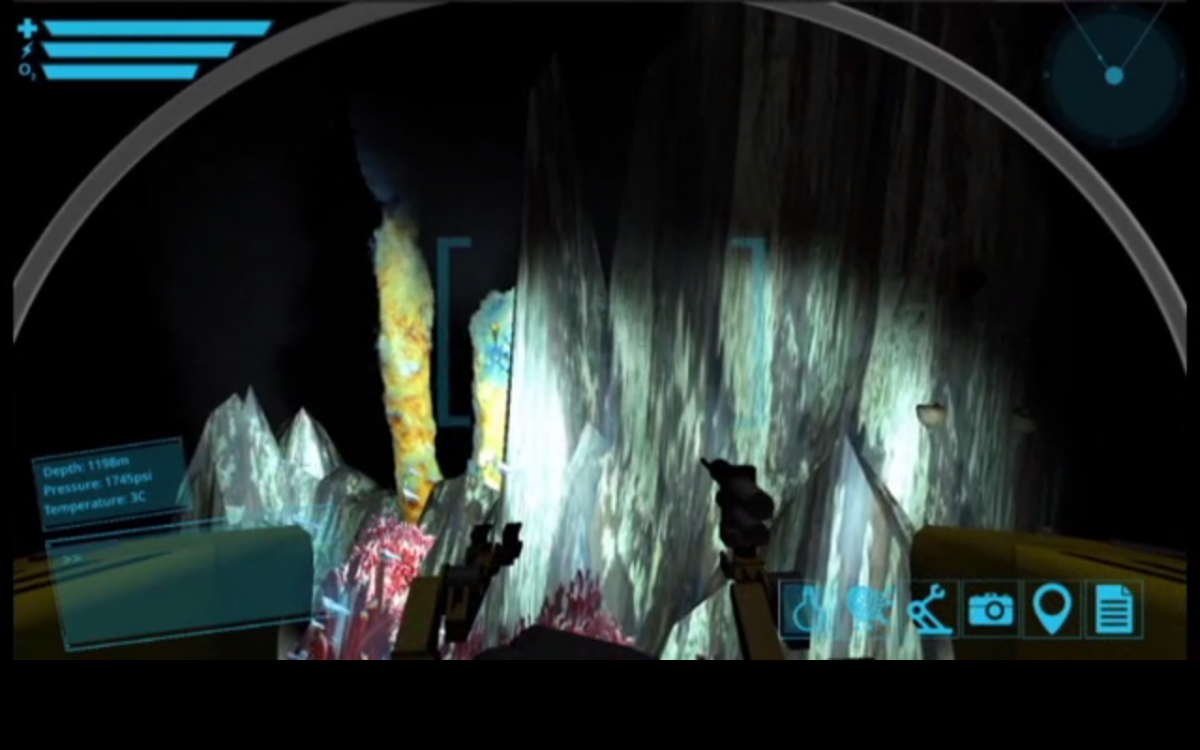 ...and conduct environmental assessments such as contamination events and ecosystem health.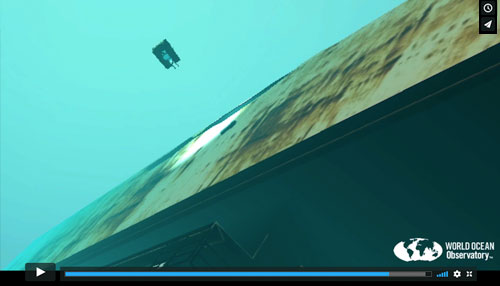 The manned submersible will be equipped with an array of instrumentation to allow for physical, chemical, biological and geological investigation.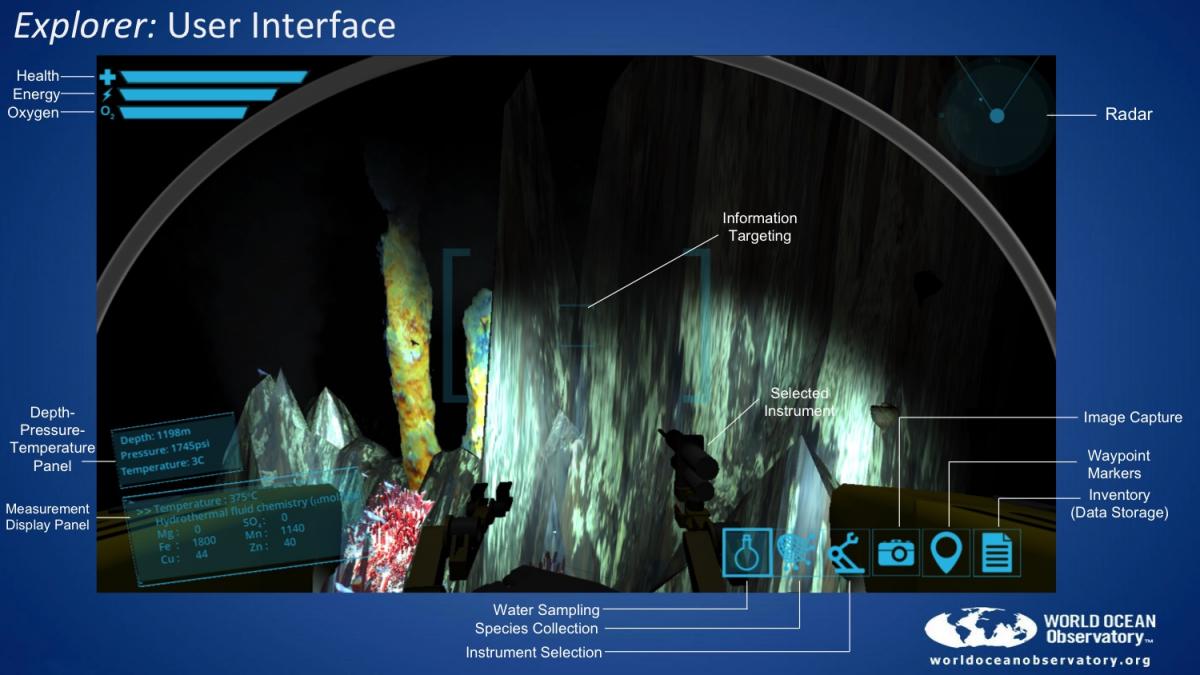 Data and images collected during game play will be stored and can be exported via .txt or .png files for qualitative and quantitative use in the classroom. Our ecosystem modules will encourage goal oriented activities and open discussion toward solving ocean problems and developing a better understanding of ocean systems and health.
World Ocean Explorer, which will be made available to users around the globe, is designed to excite students about the infinite possibilities associated with ocean exploration.

The goal of this project is to distribute Explorer in traditional classroom and home school environments (via laptop or PC) with future expansion to include additional educational modules and the potential for a virtual reality experience. World Ocean Explorer is designed for ease of use, download, and cost efficiency. World Ocean Explorer will utilize Steam (steampowered.com), a digital distribution platform, as well as direct downloads through our website (worldoceanobservatory.org) to deliver Explorer to classrooms. Explorer will be available absolutely free of charge to any educator who wishes to increase ocean literacy and foster interest in ocean systems in their classroom. The game is being developed using Unity, a cross-platform game engine. For use on Windows or Mac platforms. Thank you for considering a gift of support for the World Ocean Explorer project!
AN APP FOR THE OCEAN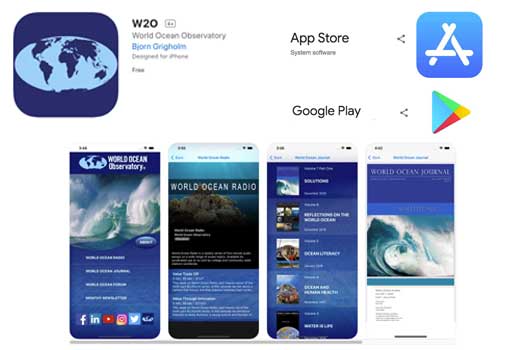 We have a NEW APP to showcase W2O programs and offerings. Download the app for free today on the App Store by searching for "W2O". With the app installed you'll have access to our weekly World Ocean Radio broadcasts, each issue of the World Ocean Journal, updates to the World Ocean Forum blog, access to these monthly newsletters, and more—all in one easy-to-use app! We hope you'll download today, RATE AND REVIEW on the App Store, and let us know how it works!
THE ECONOMIST GROUP'S
WORLD OCEAN SUMMIT ASIA-PACIFIC


Investing in the Blue Economy
December 6-10, 2021
The W2O is pleased to be an Association Partner for the upcoming World Ocean Asia-Pacific. The agenda will provide the platform for nuanced conversation and tailored discussion to catalyze the blue economy in the Asia-Pacific. We will support the December summit throughout this year by sharing event details, research, reports and news as it relates to the World Ocean Summit.

SUPPORT W2O WHEN YOU SHOP ONLINE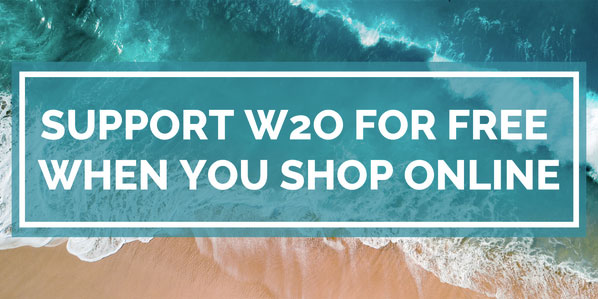 GreenH2O Rewards is a free browser extension that gets 30,000+ stores to contribute part of your purchase price to water-related charities. When you join through our referral link, you'll automatically be supporting W2O, at no extra cost, when you shop online. GreenH2O Rewards extension will also save you money by automatically applying the best discount code for you when you're checking out. What could be better than saving money and helping save the ocean?
* GreenH2O Rewards will never collect your personal information nor sell your data.
OUTLAW OCEAN MUSIC PROJECT:
WHERE MUSIC MEETS JOURNALISM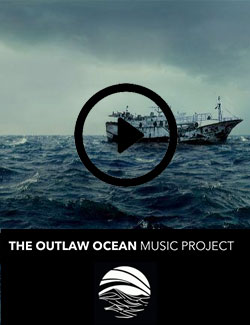 All music in this project is based on THE OUTLAW OCEAN, a New York Times best-selling book by Ian Urbina that chronicles lawlessness at sea around the world. The reporting touches on a diversity of abuses ranging from illegal and overfishing, arms trafficking at sea, human slavery, gun-running, intentional dumping, murder of stowaways, thievery of ships, and other topics. The music is an act of solidarity across geography and language, and an attempt at storytelling from written word to music. It is a captivating collection of inspired songs. Take your pick: listen to ambient tracks, classical, electronic or hiphop.