When it goes wrong, it really goes wrong
Submitted by trisha_badger on Tue, 07/02/2013 - 08:57
Down With the Ship: 1,700 containers lost at sea.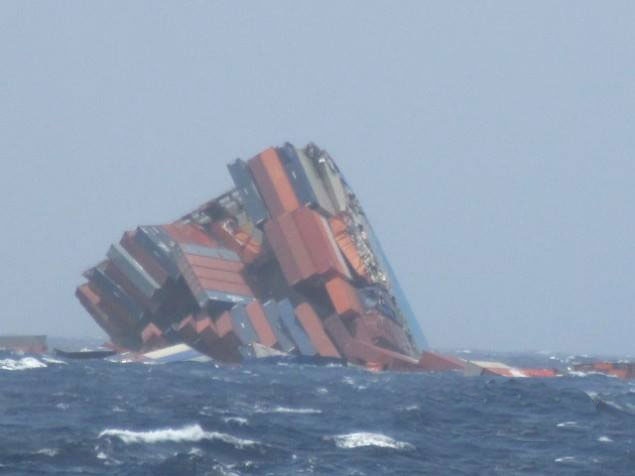 July 1, 2013
Yemen. Reports from the ship owner say that 1,700 cargo containers--filled with consumer goods--have gone down. Not to mention 1,500 metric tons of fuel oil. What's next? Nothing.
As best I can understand maritime law, unless negligence can be proven, nobody is responsible for environmental impact fees.* Nobody is responsible for cleanup. Nobody will do any cleanup.
The 1,700 containers will rot slowly on the seabed. One by one, over the years, decades, and centuries, they will rust open. Any plastic goods inside will be completely intact, and they will either float up to the surface or fan out on the seabed. Either way, they will then start to get ground up, broken apart, and ingested by sea life.

Today's wreck, our great-grandchildren's problem.
But this is half a world away. Why does this matter to Maine?
Shipping is a for-profit business. Without strict oversight, revenues will overtake safety. As they always do. And in this rabidly anti-tax political environment, where are the oversight revenues going to come from?
When there's an accident, even a much smaller one--it's not if, it's when--where will the responsibility lie? Global shipping is in many regards an incredible achievement. The way that these floating warehouses have opened markets around the world--to trade & share & mutual profit--is amazing.
But it comes with a cost. And sadly, when shipping containers go into the sea, if we don't put safeguards in place it's not us who will bear that cost. It's those who come after us.
What will they say about our priorities?
http://ow.ly/mAizf
AN APP FOR THE OCEAN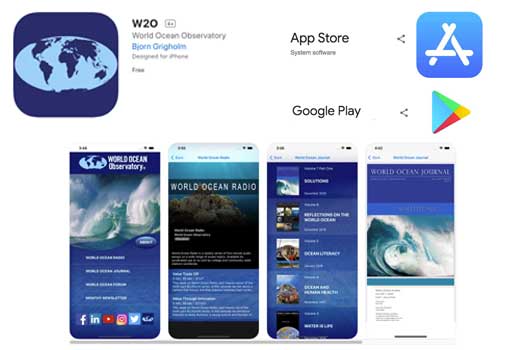 We have a NEW APP to showcase W2O programs and offerings. Download the app for free today on the App Store by searching for "W2O". With the app installed you'll have access to our weekly World Ocean Radio broadcasts, each issue of the World Ocean Journal, updates to the World Ocean Forum blog, access to these monthly newsletters, and more—all in one easy-to-use app! We hope you'll download today, RATE AND REVIEW on the App Store, and let us know how it works!
THE ECONOMIST GROUP'S
WORLD OCEAN SUMMIT ASIA-PACIFIC


Investing in the Blue Economy
December 6-10, 2021
The W2O is pleased to be an Association Partner for the upcoming World Ocean Asia-Pacific. The agenda will provide the platform for nuanced conversation and tailored discussion to catalyze the blue economy in the Asia-Pacific. We will support the December summit throughout this year by sharing event details, research, reports and news as it relates to the World Ocean Summit.

SUPPORT W2O WHEN YOU SHOP ONLINE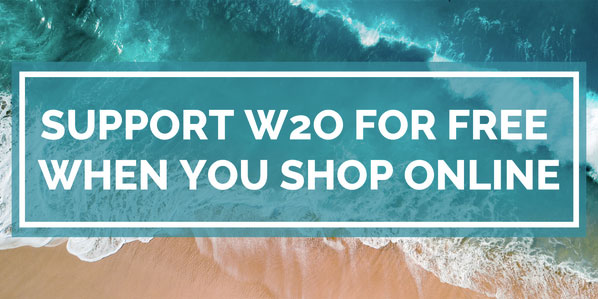 GreenH2O Rewards is a free browser extension that gets 30,000+ stores to contribute part of your purchase price to water-related charities. When you join through our referral link, you'll automatically be supporting W2O, at no extra cost, when you shop online. GreenH2O Rewards extension will also save you money by automatically applying the best discount code for you when you're checking out. What could be better than saving money and helping save the ocean?
* GreenH2O Rewards will never collect your personal information nor sell your data.
OUTLAW OCEAN MUSIC PROJECT:
WHERE MUSIC MEETS JOURNALISM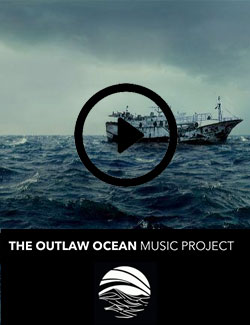 All music in this project is based on THE OUTLAW OCEAN, a New York Times best-selling book by Ian Urbina that chronicles lawlessness at sea around the world. The reporting touches on a diversity of abuses ranging from illegal and overfishing, arms trafficking at sea, human slavery, gun-running, intentional dumping, murder of stowaways, thievery of ships, and other topics. The music is an act of solidarity across geography and language, and an attempt at storytelling from written word to music. It is a captivating collection of inspired songs. Take your pick: listen to ambient tracks, classical, electronic or hiphop.