Rapid response oceanographic expedition dispatched to Chile earthquake site
Scientists are undertaking an expedition to explore the rupture site of the 8.8-magnitude Chilean earthquake.
Estimating ethanol yields from Conservation Reserve Program croplands
The scramble to find sufficient land for biofuel production has experts eyeing marginal croplands that have been placed in the Conservation Reserve Program (CRP). Now a new study indicates that plant species diversity and composition are key factors in potential energy yield per acre from biomass harvested from CRP land.
High Arctic species on thin ice
A new assessment of the Arctic's biodiversity reports a 26 percent decline in species populations in the high Arctic.
Prescribed burns may help reduce US carbon footprint
The use of prescribed burns to manage Western forests may help the United States reduce its carbon footprint. A new study finds that such burns, often used by forest managers to reduce underbrush and protect bigger trees, release substantially less carbon dioxide emissions than wildfires of the same size.
How can accidental captures of loggerhead turtles be reduced?
Scientists have studied interactions between the loggerhead turtle (Caretta caretta) and fishing gear such as longline hooks used at the water surface, mass beachings, and the effects of climate change on these animals. In order to reduce captures of this marine species without causing economic losses for fishermen, the scientists are proposing that fishing in the summer should only be carried out by night and in areas more than 35 nautical miles from land.
Chitosan as alternative to growth-promoting antibiotics for cattle and other ruminants
The natural-occurring biopolymer known as chitosan is being put forward as an effective alternative to growth-promoting antibiotics in the diet of ruminants, according to new research.
Multifunctional polymer neutralizes both biological and chemical weapons
In an effort to mirror the ability of biological tissues to respond rapidly and appropriately to changing environments, scientists have synthesized a single, multifunctional polymer material that can decontaminate both biological and chemical toxins.
China and India: Neighbors need to collaborate for sake of global environment
With large and growing economies and populations, China and India will strongly influence the quality of the global environment for years to come. While their political relationship is strained, it's critical the two countries work together to slow global warming, deforestation, water shortages and other environmental issues, say scientists.
Giant sequoias yield longest fire history from tree rings
A 3,000-year record from 52 of the world's oldest trees shows that California's western Sierra Nevada was droughty and often fiery from 800 to 1300, according to new research. Scientists reconstructed the region's history of fire by dating fire scars on ancient giant sequoia trees, Sequoiadendron giganteum, in the Giant Forest of Sequoia National Park. Individual giant sequoias can live more than 3,000 years and are considered the world's largest trees by volume.
Beluga sturgeon in Caspian Sea reclassified as 'critically endangered'
Beluga sturgeon in the Caspian Sea have been reclassified as "critically endangered" placing them on IUCN's Red List, providing strong evidence that fishing and international trade should be halted and a stock-rebuilding plan should be initiated immediately. Beluga sturgeon populations have been decimated in part due to unrelenting exploitation for black caviar -- the sturgeon's unfertilized eggs -- considered the finest in the world.
AN APP FOR THE OCEAN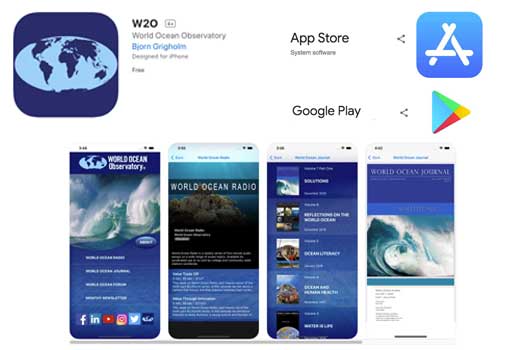 We have a NEW APP to showcase W2O programs and offerings. Download the app for free today on the App Store by searching for "W2O". With the app installed you'll have access to our weekly World Ocean Radio broadcasts, each issue of the World Ocean Journal, updates to the World Ocean Forum blog, access to these monthly newsletters, and more—all in one easy-to-use app! We hope you'll download today, RATE AND REVIEW on the App Store, and let us know how it works!
SUPPORT W2O WHEN YOU SHOP ONLINE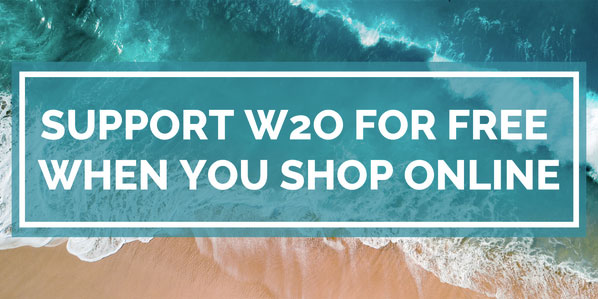 GreenH2O Rewards is a free browser extension that gets 30,000+ stores to contribute part of your purchase price to water-related charities. When you join through our referral link, you'll automatically be supporting W2O, at no extra cost, when you shop online. GreenH2O Rewards extension will also save you money by automatically applying the best discount code for you when you're checking out. What could be better than saving money and helping save the ocean?
* GreenH2O Rewards will never collect your personal information nor sell your data.
THE ECONOMIST GROUP'S
WORLD OCEAN SUMMIT ASIA-PACIFIC


Investing in the Blue Economy
December 6-10, 2021
The W2O is pleased to be an Association Partner for the upcoming World Ocean Asia-Pacific. The agenda will provide the platform for nuanced conversation and tailored discussion to catalyze the blue economy in the Asia-Pacific. We will support the December summit throughout this year by sharing event details, research, reports and news as it relates to the World Ocean Summit.

OUTLAW OCEAN MUSIC PROJECT:
WHERE MUSIC MEETS JOURNALISM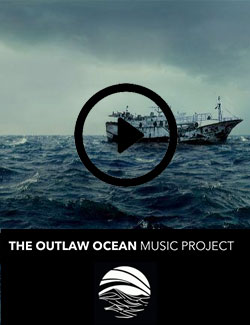 All music in this project is based on THE OUTLAW OCEAN, a New York Times best-selling book by Ian Urbina that chronicles lawlessness at sea around the world. The reporting touches on a diversity of abuses ranging from illegal and overfishing, arms trafficking at sea, human slavery, gun-running, intentional dumping, murder of stowaways, thievery of ships, and other topics. The music is an act of solidarity across geography and language, and an attempt at storytelling from written word to music. It is a captivating collection of inspired songs. Take your pick: listen to ambient tracks, classical, electronic or hiphop.