Examining Water Quality in Two Coastal Communities
Categories:
Research

,

Water Quality
Organization Name:
Deep Creek Middle School and Blue Hill Consolidated School
Location:
Eleuthera, Bahamas and Blue Hill, Maine
Classroom/Project team/names:
Abigail Ramnarine and Erin Dooley
Abby Ramnarine from Deep Middle School in Eleuthera, Bahamas and Erin Dooley from Blue Hill Consolidated School in Blue Hill, Maine both studied water quality in their small, coastal towns. Although these students live nearly 1,500 miles apart, their findings were remarkably similar. Both students tested water for coliform bacteria, dissolved oxygen, biochemical oxygen demand, nitrate, pH, phosphate, salinity and turbidity. Their results indicated good water quality at both locations. It will be important to continue monitoring water quality, however, as sudden changes could alert us to problems.
Eleuthera, Bahamas
The fishing industry in The Bahamas is critical to the nation's economy, employing 9,300 Bahamians at present (bahamas.gov). Annual fisheries production is 12 thousand tons per year, with an export value of 70 million USD (bahamas.gov). Major products include spiny lobster (Panuliris argus), queen conch (Lobatus gigas), stone crab (Menippe mercenaria) and grouper (Epinephilus spp). On the Family Islands of The Bahamas, including Eleuthera, subsistence fishing plays an important role in the lives of many Bahamians.
Because of our appreciation of marine life, and the importance of the ocean to our economy, the eighth grade class at Deep Creek Middle School in Eleuthera, Bahamas was curious about what the waters of our school's settlement held. We decided to do something that, to our knowledge, nobody had done before in two sites near our school in southern Eleuthera. Throughout the month of November 2019, we went to two different local spots to test the water quality. These spots are referred to as The Jetty, and Gully Hole.
Blue Hill, Maine
Blue Hill, Maine is similar to Eleuthera in the sense that fishing is a critical industry. According to Governor Janet Mills, the fishing industry in Maine is the cornerstone of the state's coastal economy and exceeds 600 million USD per year (maine.gov). In recent years, Maine's lobster (Homarus americanus) harvest alone has been roughly 55,000 tons annually (maine.gov). Other important fisheries in Maine include fish like menhaden (Brevoortia tyrannus) and Atlantic herring (Clupea harengus), as well as shellfish including mussels (Mytilus edulis), clams (Mya arenaria) and scallops (Plactopectin magellanicus).
Students from Blue Hill Consolidated School have been monitoring water quality for over twenty years in our small, coastal town. During the 2020-2021 academic year, the Covid-19 pandemic made school field trips impossible. Although we weren't able to study water quality as a class, individual students sampled and tested water in and around our coastal community. Data was collected from Blue Hill Bay and Curtis Cove, a popular swimming spot in the village of East Blue Hill.
AN APP FOR THE OCEAN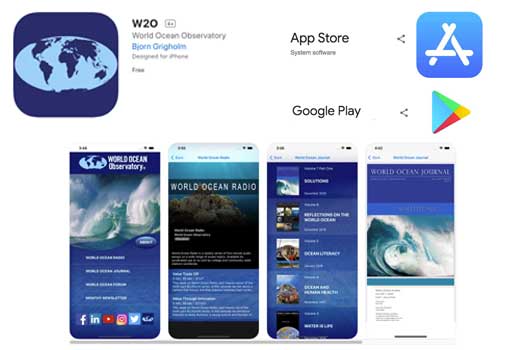 We have a NEW APP to showcase W2O programs and offerings. Download the app for free today on the App Store by searching for "W2O". With the app installed you'll have access to our weekly World Ocean Radio broadcasts, each issue of the World Ocean Journal, updates to the World Ocean Forum blog, access to these monthly newsletters, and more—all in one easy-to-use app! We hope you'll download today, RATE AND REVIEW on the App Store, and let us know how it works!
THE ECONOMIST GROUP'S
WORLD OCEAN SUMMIT ASIA-PACIFIC


Investing in the Blue Economy
December 6-10, 2021
The W2O is pleased to be an Association Partner for the upcoming World Ocean Asia-Pacific. The agenda will provide the platform for nuanced conversation and tailored discussion to catalyze the blue economy in the Asia-Pacific. We will support the December summit throughout this year by sharing event details, research, reports and news as it relates to the World Ocean Summit.

SUPPORT W2O WHEN YOU SHOP ONLINE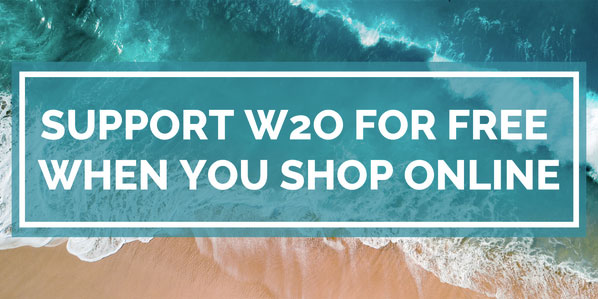 GreenH2O Rewards is a free browser extension that gets 30,000+ stores to contribute part of your purchase price to water-related charities. When you join through our referral link, you'll automatically be supporting W2O, at no extra cost, when you shop online. GreenH2O Rewards extension will also save you money by automatically applying the best discount code for you when you're checking out. What could be better than saving money and helping save the ocean?
* GreenH2O Rewards will never collect your personal information nor sell your data.
OUTLAW OCEAN MUSIC PROJECT:
WHERE MUSIC MEETS JOURNALISM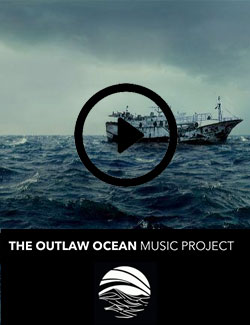 All music in this project is based on THE OUTLAW OCEAN, a New York Times best-selling book by Ian Urbina that chronicles lawlessness at sea around the world. The reporting touches on a diversity of abuses ranging from illegal and overfishing, arms trafficking at sea, human slavery, gun-running, intentional dumping, murder of stowaways, thievery of ships, and other topics. The music is an act of solidarity across geography and language, and an attempt at storytelling from written word to music. It is a captivating collection of inspired songs. Take your pick: listen to ambient tracks, classical, electronic or hiphop.