Thinking About Irene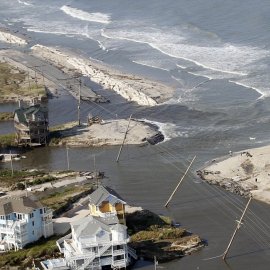 Image Courtesy of the
Associated Press
In this episode, host Peter Neill discusses the outcomes and forward-looking effects of inevitable hurricanes such as Irene and the outdated systems and infrastructure that will be costly to replace and inadequate for the demands of the present and future. Can we learn from experience? Is there logic to our current ideology anymore? Will we continue to fill swamps and wetlands, use outdated storm water systems and sewage treatment plants? Continue with federal insurance protections and construction in coastal zones? Continue to locate oil storage and nuclear sites in vulnerable locations? Should we be rushing to build as was, or should we be thinking about building as needed? Perhaps Irene and other similar storms are just the provocation that is required to rethink our outdated coastal systems and technologies.
______________________________________________________________________
Peter Neill, Director of the W2O and host of World Ocean Radio, provides coverage of a broad spectrum of ocean issues from science and education to advocacy and exemplary projects. World Ocean Radio, a project of the World Ocean Observatory, is a weekly series of five-minute audio essays available for syndicated use at no cost by community radio stations worldwide.