Navy Unmanned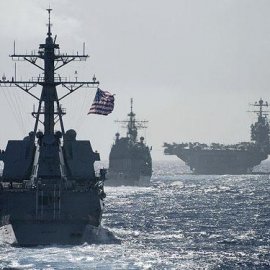 For centuries, nations have manned navies to protect and conquer and to extend their political and financial power to all corners of the earth. Changing technologies, from sail to steam, wood to steel, and the evolution of weaponry have extended the offensive and defensive capacity of ships.
With the arrival of computers, miniaturization, and increased expense, a new phenomenon has appeared: the development of unmanned systems that more efficiently and effectively meet the changing modern challenges of security at sea.
______________________________________________________________________
Peter Neill, Director of the W2O and host of World Ocean Radio, provides coverage of a broad spectrum of ocean issues from science and education to advocacy and exemplary projects. World Ocean Radio, a project of the World Ocean Observatory, is a weekly series of five-minute audio essays available for syndicated use at no cost by community radio stations worldwide.
Photo Credit: U.S. Navy