Failed Governance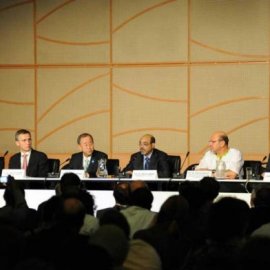 International climate meetings take place; world leaders converge to address the degradation of our land and sea environment; panels gather to review lack of progress of conservation goals. Yet the work of policy makers, the United Nations and NGOs is seemingly swallowed up by our consumption-based reality. While many countries are at work analyzing the challenges for conservation and management, international and national governance of ocean issues has mostly failed, either directly or by inadequacy of urgency and action. In this episode of World Ocean Radio, host Peter Neill will ask us to look toward local governance and local contribution as ways to mitigate the larger international challenges that face us. He will ask that we stop clinging to shreds of false optimism and to act individually and collectively to demonstrate by example in order to bring about change to the failure of national and international governance of ocean issues.
______________________________________________________________________
Peter Neill, Director of the W2O and host of World Ocean Radio, provides coverage of a broad spectrum of ocean issues from science and education to advocacy and exemplary projects. World Ocean Radio, a project of the World Ocean Observatory, is a weekly series of five-minute audio essays available for syndicated use at no cost by community radio stations worldwide.
Image:
Courtesy inhabit.com | Climate Talks Durban (COP17)