From Mitigation to Management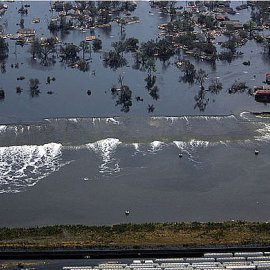 We are failing to manage successful response to climate challenges on land, along the coast and deep in the ocean; we are failing to manage within the structures that are already in place that might enable solutions. In this episode of World Ocean Radio, host Peter Neill will assert that we must embrace best management practices now and use new management tools to renovate and build for the future—not by resisting change but by embracing it for the better with renewed certainty and enthusiasm.
__________________________________________________________________________
Peter Neill, Director of the W2O and host of World Ocean Radio, provides coverage of a broad spectrum of ocean issues from science and education to advocacy and exemplary projects. World Ocean Radio, a project of the World Ocean Observatory, is a weekly series of five-minute audio essays available for syndicated use at no cost by community radio stations worldwide.
Photo: Levees are made to prevent land from flooding and rivers from overflowing, but they are not built to resist strong hurricanes like Katrina. Settlements in areas that are liable to storms and flooding often lead to avoidable damage or death. Photo Credit: Reuters