Industrial Fishing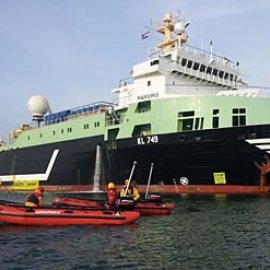 Historically, fishing has been artisanal and regional, mostly individuals fishing from shore or small craft for regional consumption. Yet fishing, like agriculture, has been industrialized: larger vessels and incentivized expansion creating an increased capacity in contradiction to decreased supply. In this episode of World Ocean Radio, host Peter Neill will discuss the surprisingly small number of corporate conglomerates that control the fishing industry.
__________________________________________________________________________
Peter Neill, Director of the W2O and host of World Ocean Radio, provides coverage of a broad spectrum of ocean issues from science and education to advocacy and exemplary projects. World Ocean Radio, a project of the World Ocean Observatory, is a weekly series of five-minute audio essays available for syndicated use at no cost by community radio stations worldwide.
Photo: Super trawler Abel Tasman, formerly the F/V Margiris, a recently renamed and reflagged 430 foot, 9,500 gross ton suction harvest and freezer ship owned by Seafish Tasmania in partnership with Seafish Tasmania Pelagic, a wholly owned subsidiary of a Dutch company, Parlevliet & Van der Plas BV, itself owned by members of two Dutch families long established in the fishing business.