What Price Extra Oil?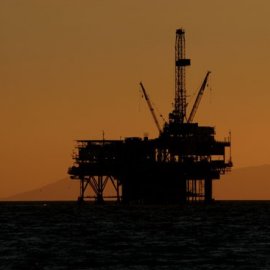 The past few years have marked a shift away from talk of "peak oil" and subsidies in support of renewable technologies, returning us to aggressive fossil fuel extraction. In this episode of World Ocean Radio, host Peter Neill will assert that there is nothing to be gained from our short-term avoidance and denial of our reliance on fossil fuels. And he will ask, "What are we doing here? What are we doing to ourselves? To the ocean and the earth? Why are standing by and letting this travesty continue?"
Image Credit: The Daily Climate
Resources from this Episode:
< Reuters | North Sea Gas Cloud
< Hydrofracking: Fact vs. Fiction
________________________________________________________________________
Peter Neill, host of World Ocean Radio, provides coverage of a broad spectrum of ocean issues from science and education to advocacy and exemplary projects. World Ocean Radio, a project of the World Ocean Observatory, is a weekly series of brief audio essays available for syndicated use at no cost by community radio stations worldwide. Contact us for more information.