Chinese Water Management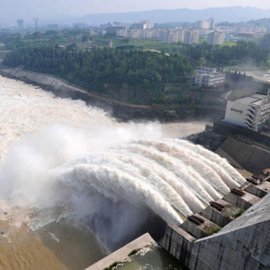 The distribution of fresh water to meet growth and increased demand has historically relied on massive planning structures. The impacts of climate change (drought, fire, extreme weather) are testing these structures, exposing them to be largely inadequate for a 21st century world. In this episode of World Ocean Radio, host Peter Neill will use China as an example of a rapidly-developing country in need of an industrial water policy that realistically factors the true cost of the supply and demand of water without sacrificing the small-scale historical methods such as conservation, water recycling, and small hydro. And he will caution that large scale construction schemes that develop with no concern for environmental and social consequence will incite civic concern and unrest.
About World Ocean Radio: Peter Neill, Director of the World Ocean Observatory and host of World Ocean Radio, provides coverage of a broad spectrum of ocean issues from science and education to advocacy and exemplary projects. World Ocean Radio, a project of the World Ocean Observatory, is a weekly series of five-minute audio essays available for syndicated use at no cost by college and community radio stations worldwide.
World Ocean Radio Has Gone Global: A selection of episodes is now available in Portuguese, Spanish, French, and Swahili. For more information, visit http://www.worldoceanobservatory.org/world-ocean-radio-global.
Image: Danjiangkou Reservoir, middle section of the south-north water transfer project in Wuhan, Central China's Hubei province.
Credit: Xinhua