A Danger of Dams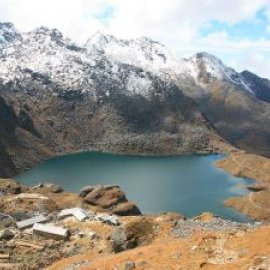 The Rasuwaghadi Dam project in Nepal, severely damaged by the recent earthquake, is mired in controversy. One of many mega-projects along the Tishuli River, it is simultaneously over-engineered due to future inadequate supply of water from decreased glacial melt, and under-engineered due to risk factors such as earthquakes. In this episode of World Ocean Radio host Peter Neill will cite from a recent report from New Yorker Magazine author Isabel Hunter who revealed sobering facts about the Rasuwaghadi Dam and its ilk: projects fueled by central governments, unlimited finance, cheap labor, environmental disregard, social dislocation, and cultural destruction.
About World Ocean Radio:
Peter Neill, Director of the World Ocean Observatory and host of World Ocean Radio, provides coverage of a broad spectrum of ocean issues from science and education to advocacy and exemplary projects. World Ocean Radio, a project of the World Ocean Observatory, is a weekly series of five-minute audio essays available for syndicated use at no cost by college and community radio stations worldwide. A selection of episodes is now available in Portuguese, Spanish, French, and Swahili. In 2015 we will add Mandarin to our roster of global languages, enabling us to reach 75% of the world's population. For more information, visit WorldOceanObservatory.org/world-ocean-radio-global.
Image: Sacred water of Gosainkunda Lake at the headwaters of the Trishuli River, soon to be changed by mega-projects such as the Rasuwaghadi dam.
Image Credit: Yosarian via Wikimedia Commons (CC BY).