Nature's Trust, Part 1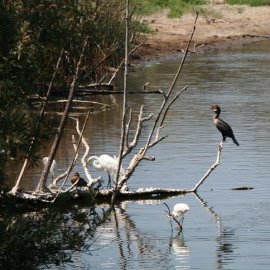 How do we organize a civilized response to the needs of a new age? What do we want and how can we achieve it in a democratic society based on the rule of law? In this episode of World Ocean Radio host Peter Neill attempts to answer these questions and more. This is part 1 of a 3-part series on designing a plan for the future which will protect natural resources such as water, wildlife, and air, one which will endure over the challenging circumstances of the 21st century.
About World Ocean Radio:
Peter Neill, Director of the World Ocean Observatory and host of World Ocean Radio, provides coverage of a broad spectrum of ocean issues from science and education to advocacy and exemplary projects. World Ocean Radio, a project of the World Ocean Observatory, is a weekly series of five-minute audio essays available for syndicated use at no cost by college and community radio stations worldwide. A selection of episodes is now available in Portuguese, Spanish, French, and Swahili. In 2015 we will add Mandarin to our roster of global languages, enabling us to reach 75% of the world's population. For more information, visit WorldOceanObservatory.org/world-ocean-radio-global.
Resources from this Episode:
< Nature's Trust: Environmental Law for a New Ecological Age
by Mary Christina Wood
< The Public Trust Doctrine

Image: Taking refuge at the Coal Oil Point Natural Reserve, Santa Barbara, CA
Credit: Maria Petueli | Marine Photobank