Nature's Trust, Part 3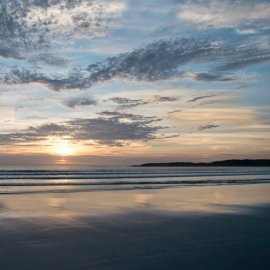 Do natural systems belong to the public or do they belong to corporate and private interests? Do corporate entities have an obligation to sustain resources for the ongoing benefit of the public or can they be exploited to exhaustion? In this episode of World Ocean Radio we discuss the conflict of ownership and control of our natural resources, and continue the discussion of Professor Mary Christina Wood's "Nature's Trust" and the public trust doctrine. This episode is part of a series on designing an enduring plan for the future which will protect natural resources such as water, wildlife, and air beyond the challenging circumstances of the 21st century.
About World Ocean Radio:
Peter Neill, Director of the World Ocean Observatory and host of World Ocean Radio, provides coverage of a broad spectrum of ocean issues from science and education to advocacy and exemplary projects. World Ocean Radio, a project of the World Ocean Observatory, is a weekly series of five-minute audio essays available for syndicated use at no cost by college and community radio stations worldwide. A selection of episodes is now available in Portuguese, Spanish, French, and Swahili. In 2015 we will add Mandarin to our roster of global languages, enabling us to reach 75% of the world's population. For more information, visit WorldOceanObservatory.org/world-ocean-radio-global.
Resources from this Episode:
< Nature's Trust: Environmental Law for a New Ecological Age
by Mary Christina Wood
< The Public Trust Doctrine