An Ocean Ethos for a World That's Lost Its Way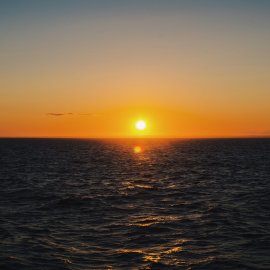 e·thos / ˈēTHäs
noun. the characteristic spirit of a culture, era, or community as manifested in its beliefs and aspirations.
The environmental and political turmoil we face in the world today is symptomatic of a failing system unable to support and sustain us. We are facing a bankrupt value system. The question is, "what's next?" In this episode of World Ocean Radio, host Peter Neill tackles this head-on, arguing for a new paradigm for the 21st century, a "hydraulic society" enabled by a healthy ocean and the fresh water cycle.
About World Ocean Radio
Peter Neill, Director of the World Ocean Observatory and host of World Ocean Radio, provides coverage of a broad spectrum of ocean issues from science and education to advocacy and exemplary projects. World Ocean Radio, a project of the World Ocean Observatory, is a weekly series of five-minute audio essays available for syndicated use at no cost by college and community radio stations worldwide. A selection of episodes is now available in Portuguese, Spanish, French, Swahili, and Mandarin. LEARN MORE.
Image Credit
Sam Wheeler