Offshore Oil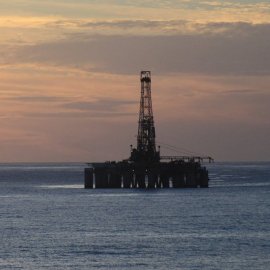 Everywhere you look there is a battle being waged over our energy future. Leasing plans for offshore oil have long and unsuccessfully been the target of industry groups; it has been asserted, however, that in recent months offshore exploration and development have gained public backing and may push forward. In this episode of World Ocean Radio, host Peter Neill will argue that the energy industry has transformed the American landscape and cannot be trusted with environmental stewardship of the ocean, nor should they be permitted to spoil anything more.
About World Ocean Radio: Peter Neill, Director of the World Ocean Observatory and host of World Ocean Radio, provides coverage of a broad spectrum of ocean issues from science and education to advocacy and exemplary projects. World Ocean Radio, a project of the World Ocean Observatory, is a weekly series of five-minute audio essays available for syndicated use at no cost by college and community radio stations worldwide.
World Ocean Radio Has Gone Global: A selection of episodes is now available in Portuguese, Spanish, French, and Swahili. For more information, visit http://www.worldoceanobservatory.org/world-ocean-radio-global.