Rescue for the Global Ocean, Part I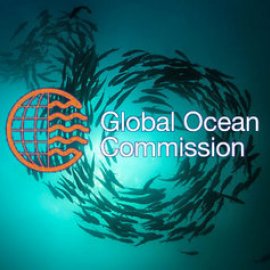 The Global Ocean Commission released a new report in June, calling for wide-ranging actions over the next five years to reduce the process from decline to recovery. In Part One of a multi-part series, World Ocean Radio host Peter Neill outlines this comprehensive plan, beginning with the major drivers of ocean decline and the Plan's eight proposals for ocean recovery.
________________________________________________________________________
Peter Neill, host of World Ocean Radio, provides coverage of a broad spectrum of ocean issues from science and education to advocacy and exemplary projects. World Ocean Radio, a project of the World Ocean Observatory, is a weekly series of brief audio essays available for syndicated use at no cost by community radio stations worldwide. Contact us for more information.
Resources from this episode:
< Global Ocean Commission: Final Report
< WORLD OCEAN RADIO: Rescue for the Global Ocean, Part 2
< WORLD OCEAN RADIO: Rescue for the Global Ocean, Part 3
< WORLD OCEAN RADIO: Rescue for the Global Ocean, Part 4
< Global Ocean Commission