500 Episodes of World Ocean Radio
Submitted by admin on Tue, 03/19/2019 - 14:22
This week marks the 500th episode of World Ocean Radio. For more than 10 years, World Ocean Radio has been engaging in dialogue about ocean issues, suggesting solutions to today's problems, and championing for the change required to conserve and sustain all natural resources for the benefit of all mankind. Originally broadcast through WERU-FM in Blue Hill, Maine, World Ocean Radio is now heard via college and community radio stations, podcast and Internet radio on five continents around the world.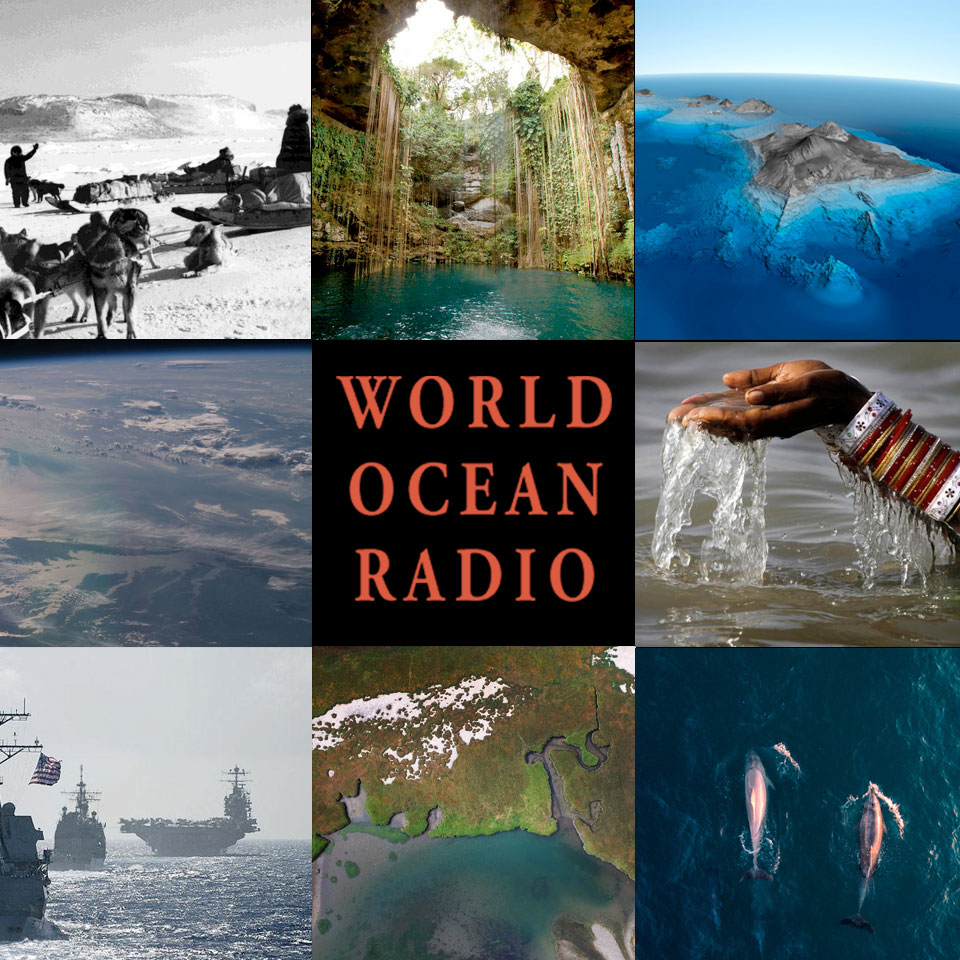 This week we broadcast our 500th edition of World Ocean Radio. Ten years. Weekly deadlines. Topics as diverse as the sea itself. To commemorate we'd like to offer a reprise of our very first episode of World Ocean Radio.
For many, the ocean is a place apart, a vast wilderness extending beyond our physical and psychological horizons, at once alien and indifferent, fascinating and compelling, about which we know very little.
But consider these facts:
The ocean covers 71% of the earth's surface.
The ocean is a central element in the recycling and purification of fresh water.
The ocean provides 90% of the world's protein, especially in developing nations.
60% of the world's population lives within 100 miles of an ocean coast.
The reality is that the ocean is essential to human survival, a primary source of food, water, climate, and community — immediate, universal, and undeniable. In short, the ocean is the determinant ecology in which we live — the sea connects all things.
When we envision the ocean as a wilderness, we are ignoring the reality of the ocean as a place where humans have left their mark throughout history by exploration and exploitation, immigration and trade, and the exchange of custom and culture. To look today from a satellite, one can see that the ocean is marked constantly by the tracks of ships, the tools of globalization through marine transport as old as the ancient Han in the Pacific, the Phoenicians in the Mediterranean, and the Vikings in the Atlantic.
What has changed over time, however, is the impact of human population growth whereby the use of the ocean has increased exponentially so that today the ocean evinces a shift from abundance to scarcity and from accommodation to conflict.
This is well exemplified by the crisis in fisheries. Research has documented the collapse of certain species such as cod that once formed the staple diet of much of North America and Europe, a result of a complex of causes to include unrestricted catch, the advent of new, efficient gear and technology, and the unwillingness of fishers, both artisanal and industrial, to work cooperatively toward a sustainable harvest. This problem was further compounded by the difficulty of regulation, a result of lack of jurisdiction outside of national economic zones, the inability to monitor or enforce quotas, and the failure of governance to address the challenge.
There are many other examples. What underlies them all, however, is the understanding that just as there are social causes to these problems, there must also be social solutions. We can complain and accuse and litigate, but the true solution lies with our determination to deal with both the cause and effect of our need to domesticate Nature, terrestrial or marine, for human use and to engage in the dialogue and change required to conserve and sustain all natural resources for the benefit of all mankind.
To inform this understanding is the purpose of World Ocean Radio.
Looking back, I am grateful to so many for the acceptance, production, and distribution of these editions: to Matt Murphy, Station Manager at WERU Community Radio in Blue Hill, Maine, where the idea was welcomed with open arms, and where every edition to date has been originally broadcast; to World Ocean Observatory Managing Director, Trisha Badger, and before her, Amelia Poole, who have edited and clarified my mistakes and posted these editions to affiliated stations and other outlets worldwide; and to the many other scientists, ocean experts, innovators, activists, and global publications from which so much of the research and content has been derived; and to all of you, Citizens of the Ocean, who have heard, shared, and acted as a result of these personal thoughts made public through the miracle of radio and the Internet.
I have one anecdote that sums up my feelings about all this: one evening, leaving a restaurant in a town far from my own, I was talking with friends as we reached the street. Several strangers were just walking by the door, but then, one stopped and turned back toward me and exclaimed: " I know that voice! World Ocean Radio!" And then we all walked on.
Thanks, strangers and friends, for listening and for reading episode transcripts here via our Medium blog. The Sea Connects All Things.
PETER NEILL is founder and director of the W2O and is author of The Once and Future Ocean: Notes Toward a New Hydraulic Society. He is also the host of World Ocean Radio, a weekly podcast addressing ocean issues. 500 episodes and counting!