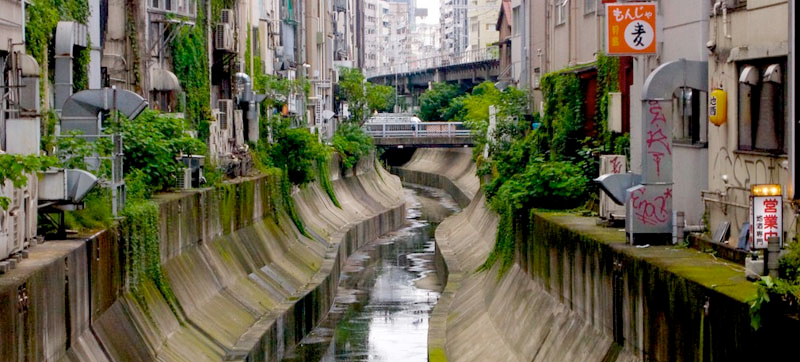 Meguro River, Tokyo, Japan. Photo by Zhaoli Jin
It is pouring a mighty rain outside and the sound captures my memory, the so many variants of water moving through the atmosphere, falling on lakes and streams, down through cascade and rock formations, over dams and through sluices, into backwaters and turning eddies, over sand and stone along the coasts, and then amplified to crescendo of breaking water, waves returning from land to sea, breaking around me in my small vessel of a sensibility listening here.
I reflect often on the magic of water. Here is an excerpt from Nature writer Annie Dillard from her wonderful book Pilgrim at Tinker Creek:
"It has always been a happy thought to me that the creek runs on all night, new every minute, whether I wish it or know it or care, as a closed book on a shelf continues to whisper to itself its own inexhaustible tale. So many things have been shown so to me on these banks, so much light has illumined me by reflection here where the water comes down, that I can hardly believe that this grace never flags, that the pouring from ever renewable sources is endless, impartial, and free."
But water is not limited to the pastoral place; it defines major cities like London, Shanghai, and New York. It presents river confluence on which inland cities are built. And it outlines the histories of first civilizations where water flowed in aqueducts, hidden pipes and submerged ponds, and then canals built for the distribution of goods, the provision of services, the movement of people from place to place. We know these cities: Venice, St. Petersburg, Amsterdam, Suzhou, Bangkok, and more. Many such cities polluted these waterways with manufacturing run-off, toxic and human waste. They were filled and covered over to make streets, while the polluted water was conveyed invisibly through engineered underground tunnels and sewers ultimately to empty into lakes, inlets, and industrial harbors from which the modern city frequently turned away.
Only in recent decades has there been a resurgence of urban waterfront development whereby the rotting abandoned urban water's edge has been reclaimed as filled land on which entire new areas of city are constructed or restored as linear parks and recreational facilities or as high-rise expensive apartment buildings with water views. Given the ubiquity and need for water for health and solace, it is hard to believe that the water connection could have been so easily abandoned, now so expensively recovered as a civil space.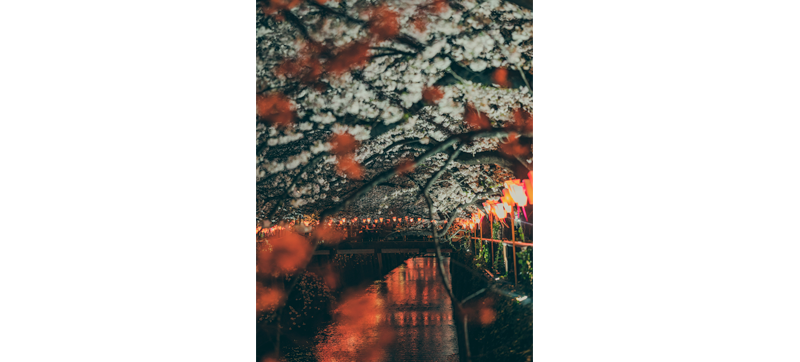 Shibuya River, Tokyo | Wikimedia Commons
When this essay posts Iwill be in Tokyo, a city known for its intense, quirky modernity, an inner-directed hive where people work and play with special abandon. To move through Tokyo is to submit to its manic system of transportation — subways, trains, congested traffic, effusive sidewalks, under and over passes, and labyrinthine passages that often duplicate the activity on the surface, a second, even third, level of city, illumined artificially with light-marks by which to navigate and artistic neon that is as sculptural as it is informative.
When we read about Tokyo history, we think of the floating world, a system of stylized behaviors and formalized structures that express the special cultural identity of Japan. We think of ukiyo-e woodblock prints of ladies and gentlemen in bright kimono, smiling and whispering behind their fans, reading and writing poetry, and engaged in political and romantic intrigue in a watery world of manners, expectations, and traditions.
But I recently discovered that this Tokyo hides a neglected, seemingly forgotten, network of several rivers — the Arakawa, Sumidagawa, Edogawa, and Tamagawa, — and over 100 natural streams and man-made canals — that wind often invisibly through springs, ponds, , hollows and hills, reservoirs, parks and neighborhoods to which residents have been long indifferent as a coherent, integrated element in the urban topography. But today, a group of passionate urban historians called Suribachi Gakkai (see Recovering Lost Tokyo in The Japan Times), are engaged in advocacy, planning, and public communication toward their restoration as the physical embodiment of memory and a pastoral softening of the hard edges of Tokyo city life. And so the revival begins. I intend to take part, having found a guide to show me by kayak through this vestigial labyrinth of water-ways and by-ways that once were the circulating force of Tokyo, the water city. I intend to paddle quietly in the great noisy city and to listen for the water, for the grace that never flags, that "pouring from ever renewable sources (that) is endless, impartial, and free."