Fantastic Voyages Past and Future, Real and Imagined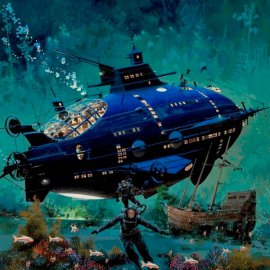 The sea has long been a source of storytelling and of real-time adventure tales. The great futuristic tale of our time is "20,000 Leagues Under the Sea" by Jules Verne. It is a story of the submarine vessel Nautilus and her captain, Nemo. In this episode of World Ocean Radio, host Peter Neill discusses this and other tales, as well as the evolution of submarine technology and the advent of modern day underwater tools and devices for global ocean research in unexpected places.
The weekly blog post of this episode is available at Medium.com/@TheW2O.
About World Ocean Radio
Peter Neill, Director of the World Ocean Observatory and host of World Ocean Radio, provides coverage of a broad spectrum of ocean issues from science and education to advocacy and exemplary projects. World Ocean Radio is a weekly series of five-minute audio essays available for syndicated use at no cost by college and community radio stations worldwide.
Learn More
Schulze-Makuch, Dirk; and Irwin, Louis N. (2001). "Alternative Energy Sources Could Support Life on Europa" (PDF). Departments of Geological and Biological Sciences, University of Texas at El Paso. Archived from the original on July 3, 2006.
Cited Works of Literature
< Viking Sagas
< The Aubrey Maturin series by Patrick O'Brian
< Tintin by Hergé
< 2182kHz by David Masiel
< We, The Drowned by Carsten Jensen's
< 20,000 Leagues Under the Sea by Jules Verne