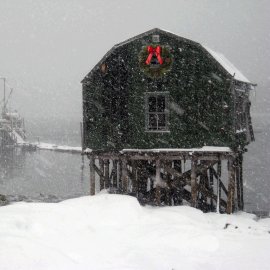 Each year during the holidays, longtime World Ocean Radio host Peter Neill reads "At The Fishhouses", a poem by Elizabeth Bishop. This is a perennial favorite of ours for its succinct distillation of Bishop's seaside meditations, the evocation of the clarity of meaning contained in personal encounters with the world ocean, and its profound relevance for the New Year. Our very best wishes to you from all of us here at the World Ocean Observatory.
At The Fishhouses
by Elizabeth Bishop
Excerpt from "At the Fishhouses" from "The Complete Poems 1927-1979" by Elizabeth Bishop. New York: Farrar, Straus, and Giroux: Noonday, 1994.
Although it is a cold evening,
down by one of the fishhouses
an old man sits netting,
his net, in the gloaming almost invisible,
a dark purple-brown,
and his shuttle worn and polished.
The air smells so strong of codfish
it makes one's nose run and one's eyes water.
The five fishhouses have steeply peaked roofs
and narrow, cleated gangplanks slant up
to storerooms in the gables
for the wheelbarrows to be pushed up and down on.
All is silver: the heavy surface of the sea,
swelling slowly as if considering spilling over,
is opaque, but the silver of the benches,
the lobster pots, and masts, scattered
among the wild jagged rocks,
is of an apparent translucence
like the small old buildings with an emerald moss
growing on their shoreward walls.
The big fish tubs are completely lined
with layers of beautiful herring scales
and the wheelbarrows are similarly plastered
with creamy iridescent coats of mail,
with small iridescent flies crawling on them.
Up on the little slope behind the houses,
set in the sparse bright sprinkle of grass,
is an ancient wooden capstan,
cracked, with two long bleached handles
and some melancholy stains, like dried blood,
where the ironwork has rusted.
The old man accepts a Lucky Strike.
He was a friend of my grandfather.
We talk of the decline in the population
and of codfish and herring
while he waits for a herring boat to come in.
There are sequins on his vest and on his thumb.
He has scraped the scales, the principal beauty,
from unnumbered fish with that black old knife,
the blade of which is almost worn away.
Down at the water's edge, at the place
where they haul up the boats, up the long ramp
descending into the water, thin silver
tree trunks are laid horizontally
across the gray stones, down and down
at intervals of four or five feet.
Cold dark deep and absolutely clear,
element bearable to no mortal,
to fish and to seals . . . One seal particularly
I have seen here evening after evening.
He was curious about me. He was interested in music;
like me a believer in total immersion,
so I used to sing him Baptist hymns.
I also sang "A Mighty Fortress Is Our God."
He stood up in the water and regarded me
steadily, moving his head a little.
Then he would disappear, then suddenly emerge
almost in the same spot, with a sort of shrug
as if it were against his better judgment.
Cold dark deep and absolutely clear,
the clear gray icy water . . . Back, behind us,
the dignified tall firs begin.
Bluish, associating with their shadows,
a million Christmas trees stand
waiting for Christmas. The water seems suspended
above the rounded gray and blue-gray stones.
I have seen it over and over, the same sea, the same,
slightly, indifferently swinging above the stones,
icily free above the stones,
above the stones and then the world.
If you should dip your hand in,
your wrist would ache immediately,
your bones would begin to ache and your hand would burn
as if the water were a transmutation of fire
that feeds on stones and burns with a dark gray flame.
If you tasted it, it would first taste bitter,
then briny, then surely burn your tongue.
It is like what we imagine knowledge to be:
dark, salt, clear, moving, utterly free,
drawn from the cold hard mouth
of the world, derived from the rocky breasts
forever, flowing and drawn, and since
our knowledge is historical, flowing, and flown.
AN APP FOR THE OCEAN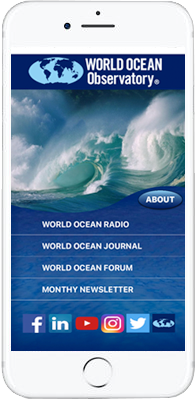 We have an app to showcase W2O programs and offerings. iOS users can download the app for free today on the App Store by searching for "W2O". With the app installed you'll have access to our weekly World Ocean Radio broadcasts, each issue of the World Ocean Journal, updates to the World Ocean Forum blog, access to these monthly newsletters, and more—all in one easy-to-use app! We hope you'll download today, RATE AND REVIEW on the App Store, and let us know how it works!
THE ECONOMIST GROUP'S
WORLD OCEAN SUMMIT ASIA-PACIFIC


Investing in the Blue Economy
December 6-10, 2021
The W2O is pleased to be an Association Partner for the upcoming World Ocean Asia-Pacific. The agenda will provide the platform for nuanced conversation and tailored discussion to catalyze the blue economy in the Asia-Pacific. We will support the December summit throughout this year by sharing event details, research, reports and news as it relates to the World Ocean Summit.

SUPPORT W2O WHEN YOU SHOP ONLINE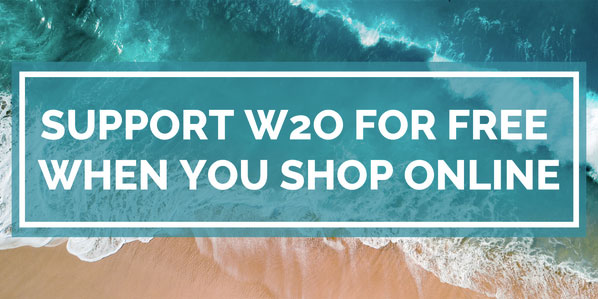 GreenH2O Rewards is a free browser extension that gets 30,000+ stores to contribute part of your purchase price to water-related charities. When you join through our referral link, you'll automatically be supporting W2O, at no extra cost, when you shop online. GreenH2O Rewards extension will also save you money by automatically applying the best discount code for you when you're checking out. What could be better than saving money and helping save the ocean?
* GreenH2O Rewards will never collect your personal information nor sell your data.
OUTLAW OCEAN MUSIC PROJECT:
WHERE MUSIC MEETS JOURNALISM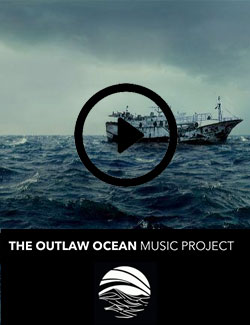 All music in this project is based on THE OUTLAW OCEAN, a New York Times best-selling book by Ian Urbina that chronicles lawlessness at sea around the world. The reporting touches on a diversity of abuses ranging from illegal and overfishing, arms trafficking at sea, human slavery, gun-running, intentional dumping, murder of stowaways, thievery of ships, and other topics. The music is an act of solidarity across geography and language, and an attempt at storytelling from written word to music. It is a captivating collection of inspired songs. Take your pick: listen to ambient tracks, classical, electronic or hiphop.