The Future of Aquaculture, part one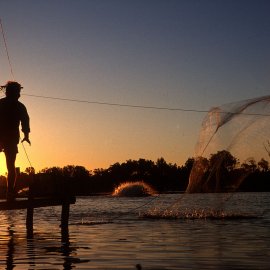 Without mitigation of consumption and illegal fishing, we face a global crisis of protein supply to feed a growing world population. Over the next few editions of World Ocean Radio we will explore disruptive technologies for aquaculture, specific initiatives and other advancements to improve efficiency and safety of aquaculture as a positive contribution to out future food supply and global health.
About World Ocean Radio
Peter Neill, Director of the World Ocean Observatory and host of World Ocean Radio, provides coverage of a broad spectrum of ocean issues from science and education to advocacy and exemplary projects. World Ocean Radio, a project of the World Ocean Observatory, is a weekly series of five-minute audio essays available for syndicated use at no cost by college and community radio stations worldwide.
World Ocean Radio is produced in association with WERU-FM in Blue Hill, Maine and is distributed by the Public Radio Exchange and the Pacifica Network.
Available for podcast download wherever you listen to your favorites.
Image
Aquaculture prawn ponds
Queensland, Australia
CSIRO Science
Creative Commons