The Hard Edge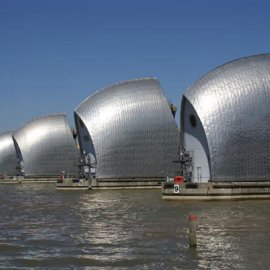 This week with "Hard Edges" we kick off a 7-part series dedicated to the ocean edge, exploring what takes place there, from the real to the symbolic. In this episode we'll take listeners through the history of the industrial development and management of ports, wetlands and watersheds. And we'll share some modern examples of hard-edge engineering and the challenges for existing structures in the face of projected sea level rise, storm surge and coastal flooding.
About World Ocean Radio
World Ocean Radio provides coverage of a broad spectrum of ocean issues from science and education to advocacy and exemplary projects. World Ocean Radio, a project of the World Ocean Observatory, is a weekly series of five-minute audio essays available for syndicated use at no cost by college and community radio stations worldwide.
Image
The Thames Barrier, U.K.