Inter-Generational Ocean Memory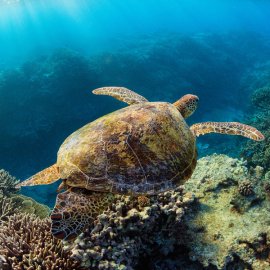 This week on World Ocean Radio we're discussing the ways we are connected through shared ocean memory and experiences. This episode offers reflections on the ocean as a healing place, where we can use its power to offer hope for generations to come.
About World Ocean Radio
Peter Neill, Director of the World Ocean Observatory and host of World Ocean Radio, provides coverage of a broad spectrum of ocean issues from science and education to advocacy and exemplary projects. World Ocean Radio, a project of the World Ocean Observatory, is a weekly series of five-minute audio essays available for syndicated use at no cost by college and community radio stations worldwide.
World Ocean Radio is produced in association with WERU-FM in Blue Hill, Maine and is distributed worldwide by the Public Radio Exchange and the Pacifica Network.
Available for podcast download wherever you listen to your favorites.
Image
Turtle on the Great Barrier Reef, Australia
Credit: Jordan Robins / Ocean Image Bank
Special thanks to The Ocean Agency for their generosity
theoceanagency.org