Irrigation Efficiency Paradox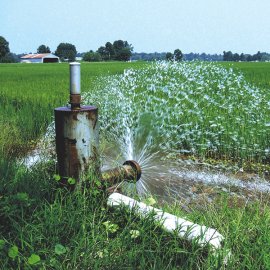 According to the US Geological Survey, 70% of the available freshwater worldwide is used for irrigation. Industrial agriculture and modern irrigation practices have today brought us to a global water crisis. This week we're discussing what has been called the "irrigation efficiency paradox," when farmers use more water, even as they are becoming more efficient in their irrigation practices. What will happen when the water cycle fails because we won't change our water wasting ways?
About World Ocean Radio
Peter Neill, Director of the World Ocean Observatory and host of World Ocean Radio, provides coverage of a broad spectrum of ocean issues from science and education to advocacy and exemplary projects. World Ocean Radio, a project of the World Ocean Observatory, is a weekly series of five-minute audio essays available for syndicated use at no cost by college and community radio stations worldwide.
World Ocean Radio is produced in association with WERU-FM in Blue Hill, Maine and is distributed by the Public Radio Exchange and the Pacifica Network.
Available for podcast download wherever you listen to your favorites.
Image
Irrigation groundwater well
USGS.gov
Public domain