Saltwater Irrigation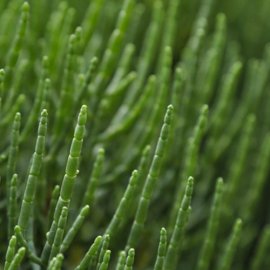 Sea level rise is changing the agricultural landscape around the world. Fortunately, saltwater irrigation has been studied for decades, and experiments and research have grown and demonstrated the viability of some plants such as halophytes that have the potential to change our conventional food landscape. In this episode we explore questions related to salt-water irrigation such as: what types of new crops can be developed for sustainable harvest, and what techniques can be invented to succeed without additional environmental damage?
About World Ocean Radio
Peter Neill, Director of the World Ocean Observatory and host of World Ocean Radio, provides coverage of a broad spectrum of ocean issues from science and education to advocacy and exemplary projects. World Ocean Radio, a project of the World Ocean Observatory, is a weekly series of five-minute audio essays available for syndicated use at no cost by college and community radio stations worldwide.
World Ocean Radio is produced in association with WERU-FM in Blue Hill, Maine and is distributed by the Public Radio Exchange and the Pacifica Network.
Available for podcast download wherever you listen to your favorites.
Image
Scientists at the International Centre for Biosaline Agriculture (ICBA) are working on halophytic (salt-loving) plants, including Salicornia bigelovii samphire (pictured). It is hoped that salt-tolerant agricultural ingredients will become staples of a global diet in a world where freshwater irrigation is increasingly unstable. Credit: ICBA