Units of Calculation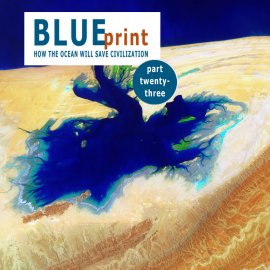 This week on World Ocean Radio: part twenty-three of the multi-part BLUEprint series. In this episode: the importance of including true accounting costs for natural resources extracted or exploited; for the downstream effects of industry and enterprise; for loss of revenue by destroyed habitats; and much more. We argue that ecosystem services can be easily estimated and added as we begin to calculate the true costs of all externals for inclusion in future analyses and development.

The "BLUEprint Series: How the Ocean Will Save Civilization" outlines a new and sustainable path forward, with the ocean leading the way.
About World Ocean Radio
Since 2009, a weekly 5-minute podcast covering a broad spectrum of ocean issues from science and education to advocacy and exemplary projects. World Ocean Radio, a project of the World Ocean Observatory, is available for syndicated use at no cost by college and community radio stations worldwide. Contact [email protected] if you are interested in becoming an affiliate or know of a radio station that should be broadcasting these episodes each week.
Image
Khor Kalmat, Pakistan. The Khor Kalmat lagoon branches off the Arabian Sea and spills into the southern Pakistan landscape near the Makran Coast Range. Mudflats cover most of the lagoon, which fills with shallow water at high tides. The small areas of green are isolated pockets of mangrove forest. Credit @USGS