Value Trade Off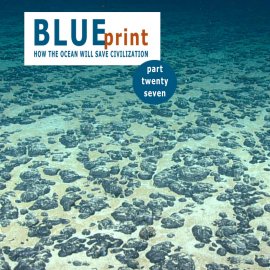 This week on World Ocean Radio: part twenty-seven of the multi-part BLUEprint series. In this episode we talk about a carbon-free future: one that requires batteries that currently rely on rare metals such as nickel, copper, cobalt and molybdenum being extracted from the sea floor in the central Pacific Clarion Clipperton Fracture Zone, threatening biodiversity and the nearby Pacific small island states. Will the short-term financial profit over the long-term social and ecosystem loss be worth the trade off?

The "BLUEprint Series: How the Ocean Will Save Civilization" outlines a new and sustainable path forward, with the ocean leading the way.
About World Ocean Radio
Since 2009, a weekly 5-minute podcast covering a broad spectrum of ocean issues from science and education to advocacy and exemplary projects. World Ocean Radio, a project of the World Ocean Observatory, is available for syndicated use at no cost by college and community radio stations worldwide. Contact [email protected] if you are interested in becoming an affiliate or know of a radio station that should be broadcasting these episodes each week.
Image
Manganese nodules on the Atlantic Ocean floor off the southeastern United States, discovered in 2019 during the Deep Sea Ventures pilot test. [Source]
Credit: National Oceanographic and Atmospheric Administration
Resources from this episode
- Warning for Pacific Governments Gambling on Deep Sea Mining | RNZ.co.nz
- International Seabed Authority: Mining Code