World Ocean Observatory - Embed
DECEMBER 2021
World Ocean Explorer's first exhibit
THE DEEP SEA
is coming January 2022
Sponsored by the Schmidt Ocean Institute
The first exhibit of the WORLD OCEAN EXPLORER virtual aquarium launches soon! Funded by the Schmidt Ocean Institute, we are building a virtual DEEP SEA exhibit to showcase the encounters and discoveries during Schmidt's many deep sea expeditions, most specifically their Australia Campaign in 2020. These expeditions of deep sea environments, seamounts, sub-marine canyons and coral ecosystems brought to light a cache of new species and information that will be made available in the EXPLORER Deep Sea exhibit--an online interactive platform highlighting the biological and geological finds of the cruises by the Schmidt Ocean Institute RV Falkor and their ROV SuBastian. The online exhibit will allow users to learn about and interact with deep sea organisms not otherwise available in a traditional aquarium setting. Features include:
immersive interactive displays such as a hydrothermal vent, a whale fall at 1500m, and a coral field containing interactive species observered by the Schmidt Ocean Institute team of researchers in the waters off Australia
searchable and interactive species tanks
maps, videos, images, and 3d models
an Ocean Literacy exhibit
more species details related to anatomy, habitat, range, threats, ecosystem details, and more educational information and curriculum will come online in the future.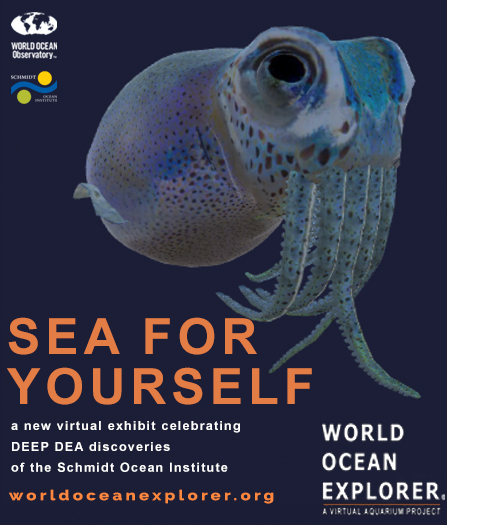 The vision for Schmidt Ocean Institute DEEP SEA exhibit--and future virtual exhibits--is to include links to resources, the full Ocean Literacy curriculum, teaching modules and lesson plans. WRLD OCEAN EXPLORER has the capacity to increase ocean literacy worldwide, and we believe that educated and informed citizens can change human behavior on land and sea. Our strategy is simple: consolidate and expand existing innovations to reach a broader global audience. EXPLORER will help us to do just that, and the Schmidt Ocean Institute DEEP SEA exhibit and vast media catalog will excite visitors with the infinite possibilities associated with ocean exploration. We are thrilled to collaborate with the Schmidt Ocean Institute to bring this exhibit to users everywhere at no cost.



WORLD OCEAN EXPLORER LOBBY NEWS
September, 2021
At this time we are also pleased to announce that we have received funding to build out the lobby of the virtual aquarium. With special thanks to the Seth Sprague Educational and Charitable Foundation, we have resources in hand to construct the entrance hall—one of the aquarium's key features that will welcome visitors to the upcoming Deep Sea exhibit and future portals. The lobby will have its own displays to introduce users to the full catalogue of resource modules contained within—in effect to build the place where we welcome and introduce our educational concepts and organizational themes to what we expect to be an audience of millions globally. Our ambition is to make the ocean accessible through inclusive interaction as wide, deep, and dynamic as the ocean itself.