World Ocean Radio - History Heritage & Cultural Traditions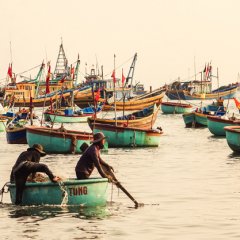 Our annual gift to World Ocean Radio listeners. In this episode, host Peter Neill reads "At the Fishhouses" by Elizabeth Bishop, a poem from 1955 that distills Bishop's seaside meditations and evokes the clarity of meaning contained in personal encounters with the ocean. A favorite of ours, with profound relevance for the New Year. Please enjoy.
This week on World Ocean Radio we have a special seasonal reading of "Christmas at Sea", an evocative poem by Robert Louis Stevenson written in 1883. Stevenson, the son of a lighthouse engineer, had intimate knowledge of extreme weather, storms, and especially nor'westers. Merry Christmas to all from the World Ocean Observatory.