The UN Atlas of the Oceans
Traditionally, an atlas was a bound collection of maps, charts, plates and tables illustrating a subject. The UN Atlas of the Oceans is an on-line version, an encyclopedic survey of the best ocean information. The project is a partnership of six UN Agencies and other public and private partners, including the World Ocean Observatory.
To access information, the Atlas offers four main points of entry:
The Atlas is the most comprehensive on-line resource for inquiry about the full spectrum of ocean issues. It is an essential tool for students, teachers, and others interested in detailed information about ocean systems and services.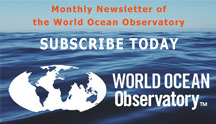 WORLD OCEAN EXPLORER 2020
With a game capable of reaching a global audience, WORLD OCEAN EXPLORER can expand interest in ocean issues and habitats, and excite students about the infinite possibilities associated with ocean exploration. LEARN MORE.