CAPTAIN DOLFIE AND FRIENDS
Organization Name:
Captain Dolfie
Grade/Ages:
Up to 12 years of age
Email address:
dolfie

[at]

mweb [dot] co [dot] za
The environment and our planet's fragile eco-system, is continually under attack from man. The world is presently experiencing considerable changes in climatic behavior and yet there seems no end to the route of destruction that man has chosen. Of great concern is the continual exploitation and pollution of our oceans- attributed directly to Man's ignorance of the oceans! We have more knowledge about outer space than our oceans! We believe that Captain Dolfie and Friends, will address man's ignorance, and allay some fears, by providing a series of EDUCATIONAL and stimulating programs employing animation combined with live footage to reinforce reality and credibility to the subject matter for viewers of all ages and all languages. 'Captain Dolfie and friends' with guidance from 'Professor Coelacanth' would take the viewers on many voyages of discovery fulfilling objectives such as; • Ocean awareness • Marine Conservation • EDUCATION- NOTIONAL SUBJECTS; • Pollution • Depletion of marine resources • Ozone • Over fishing • Whaling • Our fragile Reefs etc. My prime objective was to use these Marine Cartoon Characters to… EDUCATE CHILDREN ABOUT MARINE CONSERVATION and instill a deep appreciation and a long term understanding of its beauty and biodiversity in a FUN and entertaining manner. Education creates PARADIGM SHIFTS and changes ATTITUDES!!! CAPTAIN DOLFIE He is a Bottlenose Dolphin, and my main character. I based his personality on a Magnum PI (TV series) type character, who is a care-free fun guy with an extremely positive ATTITUDE towards life. He has a highly enquiring mind, and an insatiable hunger for knowledge. Dolphins, are perceived to be more intelligent than humans because of their larger brain size. They are extremely sociable animals and always have smiles on their faces with a great affinity towards humans. There are many ancient legends of Dolphins that have befriended sailors and people in distress and saved them from certain danger. Captain Dolfie, and his best friend Professor Coelacanth, one of the oldest creatures in the ocean. He has been around for about 300 million years. Prof Coely, lives in an old sunken wreck which contains a large library of books that have been collected from sunken ships over thousands of years. From here the two of them plan exciting excursions to tackle issues that threaten their marine environment. They take the viewers on many exciting voyages and marine discoveries, educating children through stories filled with fun and laughter along the way. Promoting Marine Conservation Education to our YOUTH. THE FUTURE OF OUR PLANET! Captain Dolfie, wants everybody to develop an… "OCEAN ATTITUDE!"
AN APP FOR THE OCEAN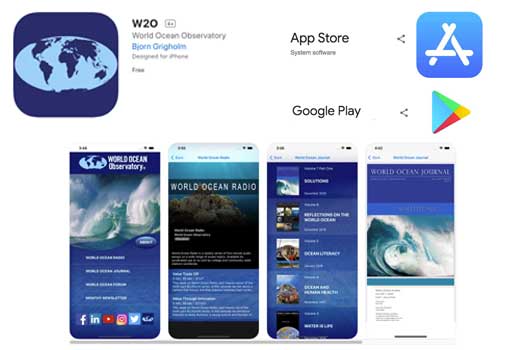 We have a NEW APP to showcase W2O programs and offerings. Download the app for free today on the App Store by searching for "W2O". With the app installed you'll have access to our weekly World Ocean Radio broadcasts, each issue of the World Ocean Journal, updates to the World Ocean Forum blog, access to these monthly newsletters, and more—all in one easy-to-use app! We hope you'll download today, RATE AND REVIEW on the App Store, and let us know how it works!
THE ECONOMIST GROUP'S
WORLD OCEAN SUMMIT ASIA-PACIFIC


Investing in the Blue Economy
December 6-10, 2021
The W2O is pleased to be an Association Partner for the upcoming World Ocean Asia-Pacific. The agenda will provide the platform for nuanced conversation and tailored discussion to catalyze the blue economy in the Asia-Pacific. We will support the December summit throughout this year by sharing event details, research, reports and news as it relates to the World Ocean Summit.

SUPPORT W2O WHEN YOU SHOP ONLINE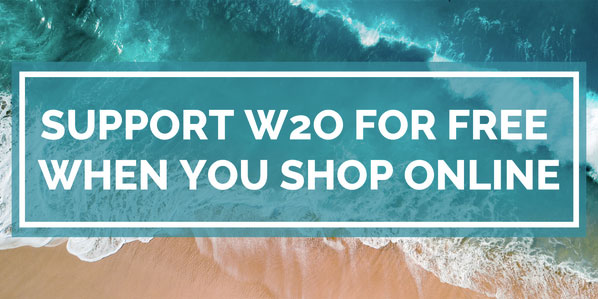 GreenH2O Rewards is a free browser extension that gets 30,000+ stores to contribute part of your purchase price to water-related charities. When you join through our referral link, you'll automatically be supporting W2O, at no extra cost, when you shop online. GreenH2O Rewards extension will also save you money by automatically applying the best discount code for you when you're checking out. What could be better than saving money and helping save the ocean?
* GreenH2O Rewards will never collect your personal information nor sell your data.
OUTLAW OCEAN MUSIC PROJECT:
WHERE MUSIC MEETS JOURNALISM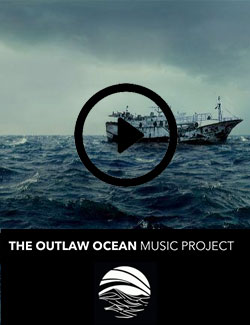 All music in this project is based on THE OUTLAW OCEAN, a New York Times best-selling book by Ian Urbina that chronicles lawlessness at sea around the world. The reporting touches on a diversity of abuses ranging from illegal and overfishing, arms trafficking at sea, human slavery, gun-running, intentional dumping, murder of stowaways, thievery of ships, and other topics. The music is an act of solidarity across geography and language, and an attempt at storytelling from written word to music. It is a captivating collection of inspired songs. Take your pick: listen to ambient tracks, classical, electronic or hiphop.