Microplastics Research and Proposals for Action
Categories:
Micro Organisms

,

Pollution

,

Water Quality
Organization Name:
Animo High School, Lennox, California; Wakasa High School, Obama City, Japan
Location:
Los Angeles, California and Obama City, Japan
Grade/Ages:
grades 9-12; ages 14-18
Teacher:
Mark L. Friedman; Yasuyuki Kosaka
Classroom/Project team/names:
Microplastics Team(s)
Email address:
marklewisfriedman

[at]

gmail [dot] com
Project Date:
2017 and beyond
The purpose of the microplastics collaboration between high school students in Japan and the United States is to collect current data on microplastics in surrounding waterways, ocean and beaches. This includes areas surrounding Los Angeles. To present the findings at science conferences and students, science fairs, and propose solutions.
Yasuyuki Kosaka is the leading high school Marine biology teacher in Japan. At a recent national high school Marine biology teachers conference in November, I met him and his students who are involved in a microplastics research project. We discussed collaboration between his students and students of the Animo high school Marine biology club. We formed a new microplastics team in Los Angeles of 10 students, from 9th to 12th grade. They have been collecting data and sharing it with Japanese students as well as Skype regularly to get to know each other and compared data and research techniques.
The Animo students presented at the LA County science fair and will be presenting the joint day that the Intel international science fair in the middle of May.
New teams will be formed each year in Japan and the US. We are intent on broadening out the number of teams in both countries and other countries. Singapore is now on board with the team doing research.
WORLD OCEAN EXPLORER 2021
With a game capable of reaching a global audience, WORLD OCEAN EXPLORER can expand interest in ocean issues and habitats, and excite students about the infinite possibilities associated with ocean exploration. LEARN MORE.
OUTLAW OCEAN MUSIC PROJECT:
A CROSSOVER BETWEEN MUSIC & JOURNALISM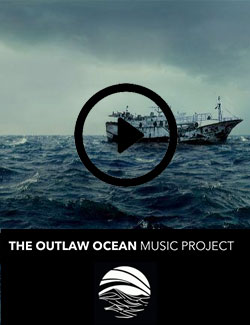 Take your pick: listen to ambient tracks, classical, electronic or hiphop. All music in this project is based on THE OUTLAW OCEAN, a New York Times best-selling book by Ian Urbina that chronicles lawlessness at sea around the world. The reporting touches on a diversity of abuses ranging from illegal and overfishing, arms trafficking at sea, human slavery, gun-running, intentional dumping, murder of stowaways, thievery of ships, and other topics. The music is an act of solidarity across geography and language, and an attempt at storytelling from written word to music. It is a captivating collection of inspired songs ranging from classical to hip hop.