The Red Sea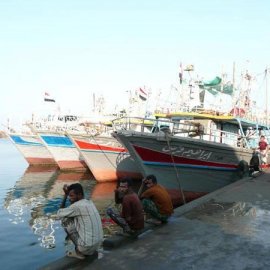 The "Atlantic bias," based on a preoccupation with European history, has precluded our looking more closely at the history and maritime traditions of the peoples of, for example, the Red Sea and Arabian-Persian Gulf as a place where early navigation skills were developed and which enabled long passages, coastwise and along shore to India, Africa, and China. One rarely finds much reference to Red Sea history in the major maritime museums of the world or the scholarly conferences on maritime issues and research initiatives. In this episode of World Ocean Radio, host Peter Neill discusses two such recent presentations of that history.
The references discussed in this episode are:
1.) "The Sea: A Cultural History" John Mack, Professor of World Art Studies at the University of East Anglia, Exeter, UK. http://www.reaktionbooks.co.uk/book.html?id=449.
2.) The Mares Project, led by Professor Dionisius Agius of the Institute of Arab and Islamic Studies based at the University of East Anglia, Exeter, UK. http://projects.exeter.ac.uk/mares/.
______________________________________________________________________
Peter Neill, Director of the W2O and host of World Ocean Radio, provides coverage of a broad spectrum of ocean issues from science and education to advocacy and exemplary projects. World Ocean Radio, a project of the World Ocean Observatory, is a weekly series of five-minute audio essays available for syndicated use at no cost by community radio stations worldwide.
Photo Credit: "Fishing Boats at Al Hudaydah" courtesy of Jane Baxter.