Nautical Archaeology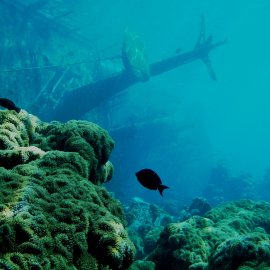 Thousands of shipwrecks lie across the world ocean floor. Along with the new technologies that reveal them to us, various controversial issues have emerged. Many of these ships have tremendous economic value; many reveal new evidence of shipbuilding techniques, armaments, and details of historic events; many have cultural, artistic, or academic value. While standards and international treaties have been developed for inventory and historical documentation, recovery, conservation, and commemoration, not all nations have signed on, leaving inconsistent outcomes for many shipwreck sites. In this episode of WOR, host Peter Neill will discuss two recent examples of discovery, recovery, documentation, and procedural expectations.
Helpful Links:
< Disabled US Operated Antarctic Cruise Ship in High Seas | YouTube
< UNESCO Convention for the Protection of Underwater Heritage [PDF]
< The Belitung (Tang) Shipwreck (9th C.)
< Project Shiphunt | Thunder Bay Nat'l Marine Sanctuary, Lake Huron
______________________________________________________________________
Peter Neill, Director of the W2O and host of World Ocean Radio, provides coverage of a broad spectrum of ocean issues from science and education to advocacy and exemplary projects. World Ocean Radio, a project of the World Ocean Observatory, is a weekly series of five-minute audio essays available for syndicated use at no cost by community radio stations worldwide.
Photo: Shipwreck in Palmyra Atoll
Credit: Thierry Work; U.S. Geological Survey