The Oranjemund Shipwreck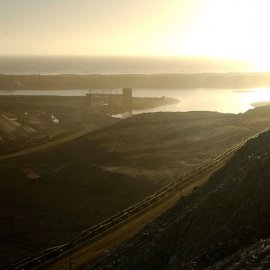 Ownership of cultural discoveries such as shipwrecks has long been debated by governments, historical institutions, private business and salvers and usually garner widespread international media coverage. In this episode of World Ocean Radio, host Peter Neill will tell the story of a 2008 discovery of treasure from the Oranjemund Shipwreck on Namibia's diamond mining coast—a vast collection of gold, silver, and cultural riches—and will argue that discoveries such as these belong not to treasure hunters but to the people of nations where they are found.
________________________________________________________________________
Peter Neill, host of World Ocean Radio, provides coverage of a broad spectrum of ocean issues from science and education to advocacy and exemplary projects. World Ocean Radio, a project of the World Ocean Observatory, is a weekly series of brief audio essays available for syndicated use at no cost by community radio stations worldwide. Contact us "info at the W2O dot net" for more information.
Image: Diamond mining on the Namibian coast. Credit: DeBeersGroup.com